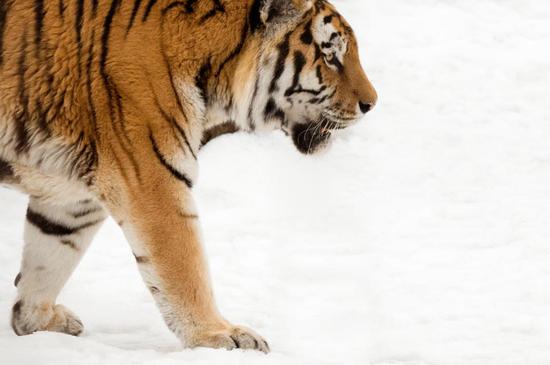 An Amur tiger walking in the snow is caught on a camera set up by the WWF. (Photo provided to China Daily)
The WWF and U.S. tech company Intel form a partnership to use artificial intelligence to help with the conservation of endangered Amur tigers in China.
Nature and technology are often thought to be polar opposites, but the launch of a new wildlife project in China has shown that this is just a false dichotomy.
On Global Tiger Day on July 29, the World Wildlife Fund (WWF) and U.S. technology company Intel signed an agreement in Changchun, the capital of northeastern China's Jilin province, to use artificial intelligence technology to monitor and protect the country's wild Amur tigers, which are also known to the locals as Northeast tigers.
The Amur tiger, the largest of all wild cat species in the world, used to be found in many places across northeastern China. However, increasing human activity in the region has resulted in a loss of tiger habitats and subsequently, a decline in its population, according to Liu Peiqi, the head of the WWF's Northeast China program.
As it is rare to see tigers in the forest - Liu has not witnessed one since he started his career in wildlife protection in the 1980s - WWF researchers have to rely on infrared cameras to determine their whereabouts. There are presently about 1,200 cameras set up in the Jilin and Heilongjiang provinces where tiger activity is thought to be likely.
According to the researchers, about 47 individual wild Amur tigers were detected in China between 2013 and 2017, including nine reproductive families and 16 cubs. Liu noted that the numbers are estimates because traditional tracking methods are fraught with technical limitations.
"It's not like counting tigers in enclosed zoos. We used to analyze footprints and identify different tigers based on their size and stripes. But this procedure is very energy-consuming as we have to compare the myriad pictures one by one," says Liu.