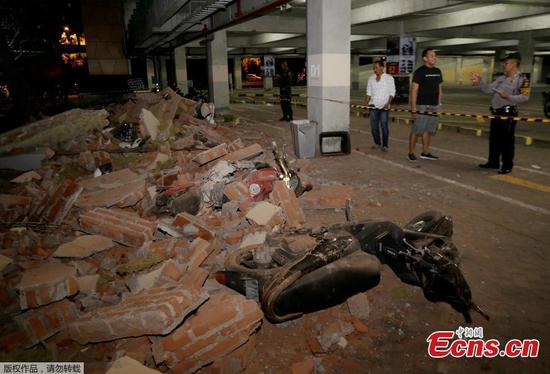 A policeman examines debris that fell and crushed parked motorbikes following a strong earthquake on nearby Lombok island, at a shopping center in Kuta, Bali, Indonesia August 5, 2018. (Photo/Agencies)
(ECNS) - The Chinese Consulate-General in Kota Denpasar confirmed that 37 Chinese tourists have been found after a 7.0-magnitude earthquake on Sunday killed at least 82 people on the Indonesian tourist island of Lombok.
The consulate-general said there are currently about 200 Chinese tourists on the island. Among the 37 found, eight were from Hong Kong.
The consulate general is keeping in touch with local authorities and urging them to step up rescue efforts to ensure the safety of Chinese tourists.
It is expected that all Chinese tourists will soon withdraw, China Central Television (CCTV) reported.
An earthquake jolted the island at the end of July without causing any serious damage. Because of that, local tourism companies did not cancel any plans, and some Chinese tourists came to the island as scheduled, according to CCTV.
The 7.0-magnitude quake struck at a depth of 15 kilometers early on Sunday evening in the northern part of Lombok, triggering a brief tsunami warning and damaging buildings as far away as Denpasar in Bali. It has been followed by aftershocks as strong as magnitude-5.4.