According to Zhang Shanning, deputy director of administration of the national park, rangers patrol the park daily to deter poaching activities. AI technology could play a part in this as it could be used to track suspicious people who enter the national park.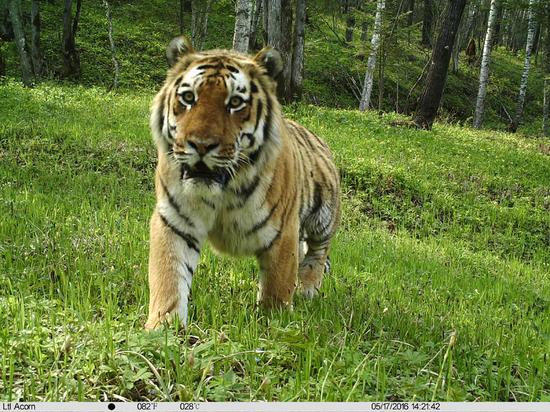 A snapshot of a wild Amur tiger taken by a camera set up by the WWF in Suiyang town, Heilongjiang Province. (Photo provided to China Daily)
The technology could also help with the restoration of habitats as it allows researchers to determine the corridor through which Amur tigers move. Liu estimates that the national park only has enough habitats to support between 20 and 40 tigers. In contrast, there were 526 Amur tigers, including cubs, across the border in Russia in 2016, according to estimates. Liu says this is because there are more complete and larger habitats in Russia.
Constructing habitats is an important step in the conservation process, says Meng Xianlin, executive director general of China's national management office of the endangered species of wild fauna and flora. He points out that 95 percent of tiger habitats in the world have disappeared over the past century.
"Diminishing habitats for large cat species is a global problem. The tiger crisis indicates that the environment they live in is not ideal enough. It also means there is a crisis in the eco-system," says Meng.
"To protect the tigers, we need to develop their concomitant species as well as offer a complete food chain. We also need to improve the lives of the local people as this would decrease the conflicts between humans and animals."
Intel's AI technology has in recent years been used to track polar bear activity and research how whale blows could reflect the state of the ocean environment.
Griffin states that different AI algorithm would be tailored for each program, and if the project in China works well, it could be slightly modified to suit similar research efforts in other parts of the world.