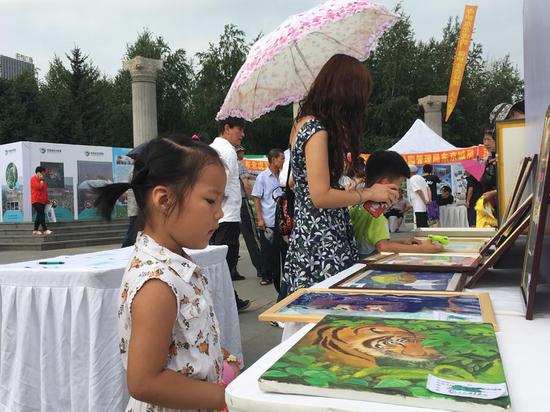 An art exhibition promoting wild tiger protection is held in a park in Changchun, Jilin Province. (Photo by Wang Kaihao/China Daily)
"I'm still very excited about the future of technology. Some people are afraid of artificial intelligence for many reasons, like how jobs might be lost. But, when we do a program like this, it's a technology for good," she says.
"The enormous value of AI technology is best demonstrated by its proven ability, through constantly expanding applications, to solving major challenges regarding human development and social progress."
During the St Petersburg Tiger Summit in 2010, heads of states and senior government representatives of tiger range countries agreed to the goal of doubling the world's wild tiger population by 2022, the next Year of Tiger according to the Chinese zodiac.
The global population of tigers has been growing since the summit. In 2016, the WWF estimated that there were about 3,890 wild tigers around the world, 21.6 percent more than the number in 2010. There was more good news last year too - as many as 24 Amur tigers were detected by cameras in China, the highest number since the WWF launched its conservation program on the country's tigers in 2006.
As part of its efforts to achieve the global goal, the WWF and the Chinese government have been using innovative approaches to effectively manage and conserve the wild tigers and their habitats.
In August 2017, the Northeast Tiger and Leopard National Park, China's second national park after the Sanjiangyuan on the Qinghai-Tibet Plateau, was established, covering 14,900 square kilometers (71 percent in Jilin and 29 percent in Heilongjiang).