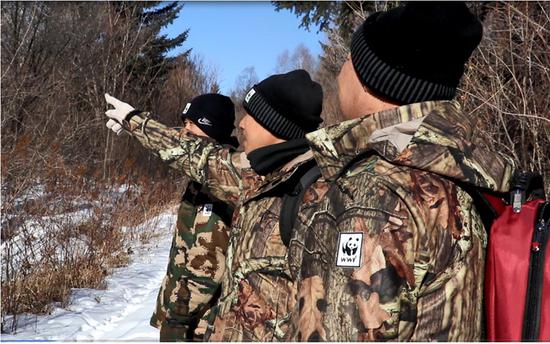 Rangers patrol the Northeast Tiger and Leopard National Park. (Photo provided to China Daily)
"Some cubs grow faster than others and some pictures we have are not clear enough for us to tell whether it is a new subject. A large part of data we have collected is thus redundant."
AI technology is expected to lend researchers a helping hand in this matter. According to the new agreement, the WWF and Intel will explore a model of sustainable development in wildlife conservation which aims to overcome the limitations of traditional field monitoring, such as the manual collection of data, the long processing and identification process, the inability to obtain important data in a timely manner and the restoration of fuzzy images.
"The protection of tigers is a combination of natural sciences, sociology and economics. We expect AI technology to be used in big data analysis of more fields and offer more references in policy-making and the roles we can play," says Liu.
Alyson Griffin, Intel's vice-president of global marketing, says that the company's technology would be able to enhance the challenging and tedious process of gathering information on the tigers.
"At the front end, the Intel Movidius-based infrared camera will be set up using motion detection to trigger data capture for an always-on system. This will generate a higher volume of more reliable data and reduce the need for collection labor," she explains.
Movidius, a California-based company, is known for its leading vision processing unit. It was acquired by Intel in 2016. Griffin adds that AI algorithm and data analysis at the back end would scan and analyze images from hundreds of cameras, tracing the path of the Amur tigers from multiple dimensions.