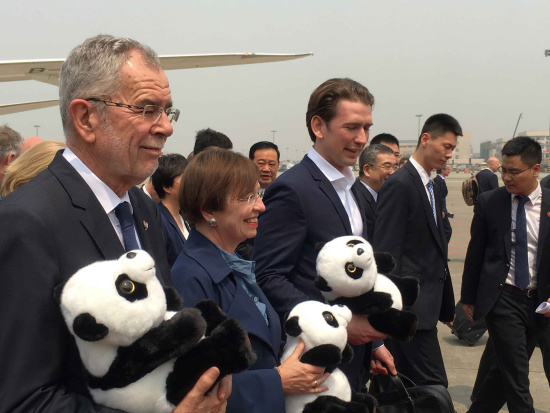 Austrian President Alexander Van der Bellen, who headed a large delegation including Austrian Chancellor Sebastian Kurz and members of the business community, arrives in Chengdu City, Sichuan Province, April 11, 2018. /CGTN Photo
Austrian top leaders' visit to China on April 7-13 is a great success, President Alexander Van der Bellen said before his departure back home, national Austria Press Agency (APA) reported.
In an interview in southwest China's city Chengdu, Van der Bellen told the APA "everything was done right" during the visit, which paved the way for business, academic, and cultural exchanges between the two countries.
He said the trip with a high-ranking delegation, involving Chancellor Sebastian Kurz and four cabinet ministers was a "right one," adding that he believes it made a good impression on the Chinese side.
The delegation signed numerous contracts with Chinese business partners, which valued a total of 1.5 billion euros (1.85 billion U.S. dollars).
The president said China is aware of Austria's know-how in the industrial and high-tech sectors, adding "China takes us seriously, and not just in music."
As China has a significant influence on the globe, building connections between the two countries is important, he added.
He also expressed interest in participating in the China-proposed Belt and Road Initiative as part of a growth strategy to boost Austria's exports.
The delegation witnessed Thursday the launch of the China-Europe freight train service linking Chengdu with Austria's capital Vienna and attended Wednesday the opening ceremony of an Austrian consulate general set in Chengdu, which is the last stop of the Austrian delegation in China.
On Sunday, leaders of the two countries agreed to establish a China-Austrian friendly strategic partnership and advance bilateral pragmatic cooperation.