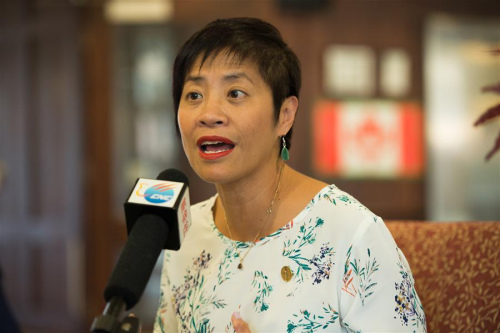 Soo Wong, a member of Provincial Parliament of Canada's Ontario province, is interviewed with Xinhua in Toronto, Canada, on Aug. 24, 2017. (Xinhua/Li Haitao)
"It is important for Ontarians to reflect and educate themselves about the enduring lessons of the Nanjing Massacre," said Ms. Soo Wong, who is a member of Provincial Parliament of Canada's Ontario province.
Wong has devoted her efforts introducing a private member's Bill No. 79 to designate December 13 as Nanjing Massacre Commemoration Day here in Ontaria in southeast Canada.
The bill passed the second hearing last December, and will go through a third hearing later this year. If passed, December 13 will become an official commemorative day in the province. Up to date, more than 90,000 signatures have been collected across the province in support of the bill.
Ontario is home to Canada's largest Asian community. It is reported that there are nearly three million Asian Canadians, including almost one million population of Chinese origin. Some Ontarians have direct relationship with victims and survivors of Nanjing Massacre.
The Nanjing Massacre is also known as the Rape of Nanking in the Western world. In December 1937, Japanese troops captured the city of Nanjing, then capital of China, and committed mass murder and raping with more than 300,000 local Chinese being killed.
The bill for the commemorative day has encountered strong opposition from Japan. Some Japanese lawmakers reportedly have sent a letter to the Ontario government against the bill and Japan's ruling Liberal Democratic Party will send its lawmakers to Canada to lobby against the designation of the Nanjing Massacre Commemorative Day.
In an exclusive interview with Xinhua Thursday, Soo Wong said she had heard of a letter being sent from Japanese MPs to Ontario.
Wong is the first female Chinese-Canadian to be elected to the Ontario Legislature. She serves as deputy speaker and parliamentary assistant to Ontario minister of Community Safety and Correctional Services.
"I'm not going to comment on something I haven't read. I'm going to comment on the fact that this is about Ontario government and as a member of Ontario provincial parliament, I do have the ability and authority to introduce private member's bill on matters that are factual, and based on evidence," Wong said.
However, Wong said she had received a postcard from Japan with no signature on it, which gives an alternative number of deaths killed in Nanjing during the Second World War.
"We know the history, we also know the fact," she said.
She said the designation of Nanjing Massacre Commemorative Day in Ontario will provide an opportunity for all Ontarians, especially the Asian community, to remember and honor the victims and families affected by the Nanjing Massacre.
However, supporters of the bill are worried that Ontario Premier Kathleen Wynne will not push hard for the legislation to pass.
Dr. Joseph Wong, founder of Toronto Alpha (Association for Learning and Preserving the History of the Second World War in Asia) told Xinhua Thursday that he is concerned with the influence from the Japanese government.
Dr. Wong said the letter from the Japanese ruling party should not cause any ripple in the Ontario government, which should be intelligent enough not to be influenced by any foreign interference.
After Bill No. 79 passed second reading, Dr. Wong has met Progressive Conservative Leader Patrick Brown and New Democratic Leader Andrea Horwath in Ontario Parliament. Both leaders, he said, have promised that their caucuses would support the bill without reservation.
"This is the human rights legislation," said Dr. Wong.
However, Dr Wong said a meeting with Ontario Premier Kathleen Wynne made him feel that she is reluctant to let it pass.
Dr. Wong said the premier was concerned the bill adoption would be "divisive" for Ontario's Japanese and Chinese communities.
He assured the premier that will not happen, as remembering the Nanjing Massacre will promote dialogue between local Japanese and Chinese communities. "We don't see Germans and Jews fighting on the streets of Canada because of Holocaust education," he stressed.
Toronto author Joy Kogawa, who is Japanese Canadian, told a news conference last month that she fully supported the bill to designate December 13 as Nanjing Massacre Commemoration Day, even though that means people in Japan think she's a traitor.
"The facts are the facts, and it is wrong to deny them," said Kogawa, who's been awarded the Order of Canada and Japan's Order of the Rising Sun.
It's time for atrocities in Asia to be as well-known as those in Europe or Canada, Kogawa said, adding she has met and argued with many Japanese people who think the Rape of Nanking did not exist.