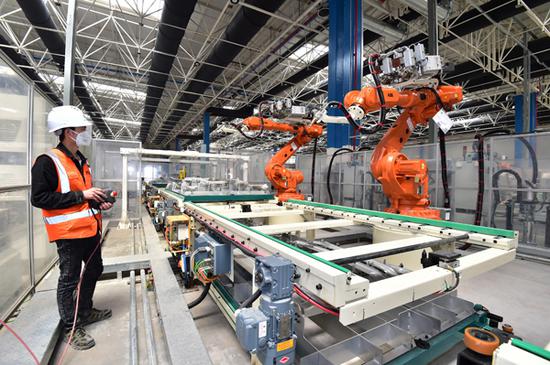 A technician adjusts the arms of robots at a new energy vehicle manufacturing plant in Yiwu, Zhejiang province. (Photo by Lyu Bin/For China Daily)
Special: Yangtze River Economy
Announcement of massive spending plans lifts local firms' shares
Zhejiang province in eastern China plans to invest 1 trillion yuan ($145 billion) in more than 70 transportation-related projects in its Great Bay Area.
The investment bonanza, unveiled by the Zhejiang Provincial Development and Reform Commission, aims to develop the area as a world-class location on par with the Guangdong-Hong Kong-Macao Greater Bay Area in southern China.
And the announcement led to a leap in the share prices of a number of local companies related to the projects.
Ningbo Construction Co Ltd, listed on the Shanghai Stock Exchange, saw its stock rise 10.13 percent on Tuesday afternoon, reaching 4.13 yuan per share. Ningbo Marine Co Ltd's stock price increased by 6.61 percent, while Ningbo Port, Longyuan Construction and Hongrun Construction all saw similar increases.
Commission spokesman Xie Xiaobo said: "The general goal is to build a world-class great bay that is green, mod-ern, smart, harmonious and beautiful."
The provincial authorities aim to invest 750 billion yuan of the 1 trillion yuan target investment over the next five years.
The planned Great Bay Area will contain 23 ports, including the Port of Shanghai and Ningbo Zhoushan Port, respectively the world first and third-biggest ports in terms of container capacity.
"Ningbo Zhoushan Port has been the world's largest port in terms of cargo tonnage over the past nine years," said Jiang Wei, secretary of the board of Ningbo Zhoushan Port Co Ltd.
"Last year its cargo tonnage surpassed 1 billion metric tons, making it the world's first port to have such capacity."
"In the past four years, the port has achieved tremendous growth," he added.
According to the province's plan, by 2020, the entire output from the area will top 6 trillion yuan, with the digital economy accounting for more than 50 percent of growth.