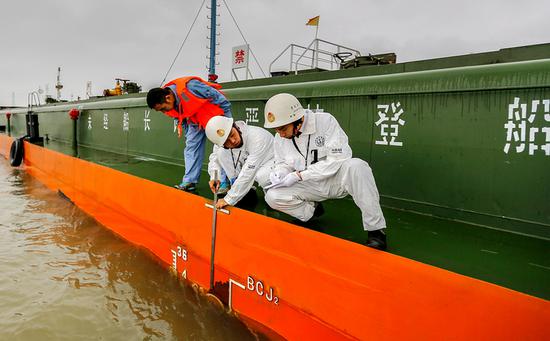 Engineers check the depth of the Yangtze River as part of an ongoing dredging project. (Photo/China Daily)
Special: Yangtze River Economy
New ship designs and dredging will open the river up to larger vessels.
As the point at which two of the country's major transport routes-the north-to-south Beijing-Guangzhou rail line and the Yangtze River, which flows west to east-intersect, Wuhan holds a strategic position in the development of the Yangtze River Economic Belt.
The belt covers 11 provinces and municipalities, including Hubei, Hunan, Shanghai and Chongqing.
Wuhan, capital of Hubei province, is taking its function as a major transport hub to a higher level by upgrading its port, building new container ships, and dredging the riverbed to accommodate huge vessels.
Water and rail
Crane operator Li Jianguo began working at a new container loading center in Yangluo Port, one of Wuhan's major facilities, earlier this year.
Every day at 7 am, the 40-year-old climbs up to his cabin on a gantry crane and begins loading cargo trains with containers that arrive from the dock 1 kilometer away.
"I used to load cargo onto trucks, and now I do trains," he said.
In the past year, the port has handled more than 1.3 million containers. Most of them were later dispatched to other locations via water or road.
"As more and more trains arrive, our work will become busier," Li said.
Among the 15,000 containers Li and his coworkers have dealt with this year, about 300 were loaded with Ikea furniture, shipped from Sweden, and later carried by rail to inland provinces such as Sichuan and Shaanxi.
Before, the furniture would have been transported by truck to a train station 60 km from the port and then sent inland. However, things have changed since the first water-rail logistics center at Yangluo Port started operations at the beginning of the year.
Containers are now loaded onto trains more quickly and at greatly reduced cost.
The new model fully utilizes water transportation along the Yangtze, which costs less than carrying goods by rail from Shanghai, where most international container ships dock.
"The water-rail logistical model will reduce costs by 30 percent compared with truck-train transportation," said Wang Ting, director of the operations and management department of Yangtze River New Silk Road International Logistics, which operates the center.
At present, the center handles 30,000 twenty-foot equivalent unit containers a year, but the company is planning an expansion that will add two more loading centers to the port's docks.
"With the completion of the second loading site, the port could handle 200,000 TEU containers a year using the water-rail model," Wang said.
She added that the ultimate goal is 4 million TEU containers, about 40 percent of the estimated number of containers that will arrive at the port by 2035.
Last year, Wuhan's ports handled more than 100 million metric tons of goods, a year-on-year rise of 11.3 percent, and the number of TEU containers reached 1.36 million, which was a record for the city.