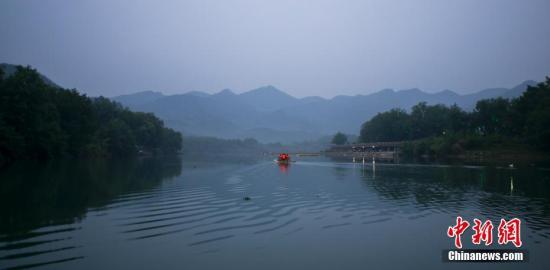 This file photo shows the Yongan River in Zhejiang Province. (Photo/China News Service)
Special: Yangtze River Economy
(ECNS) - East China's Zhejiang Province is to develop a "Greater Bay Area" centered on its capital Hangzhou, with a planned investment of one trillion yuan ($146 billion) into the transportation sector over five years, according to the province's top economic planner.
Xie Xiaobo, spokesperson for Zhejiang Province Development and Reform Commission, said the goals are to become a world-class bay area, lead the country in modernization, become a "highland" for innovation in the global digital economy and drive high-quality development.
According to the timetable, by 2022 the bay area plans to fully upgrade its scientific and technological innovation, optimize its industrial structure and improve levels of internationalization.
Jiangsu's blueprint will integrate development of the Hangzhou Bay economic rim, Ningbo-Taizhou-Wenzhou port industrial belt and Yiwu-Ningbo-Zhoushan open channel. The roles of Hangzhou and Ningbo will be improved to lead regional growth while four new areas in Hangzhou, Ningbo, Shaoxing and Huzhou will be developed on the key philosophy of harmony between people and nature.
In the infrastructure push, Zhejiang will build a high-level transportation network in the bay area, develop world-class port and airport clusters to reach the world, and promote a smart transportation strategy.
Zhejiang will focus on 70 transportation projects with an estimated total investment of about 1 trillion yuan, with an actual investment in the five-year period of about 750 billion yuan. Among the projects, 44 will be promoted as a priority this year.
Zhuo Yongliang, director of Development and Opening up Research Institute in Zhejiang Province, said work on infrastructure will be the starting point to optimize the division of labor and cooperation between urban areas within the bay area.
The province's bay area will be key to realizing higher-quality integrated development in the Yangtze River Delta, one of China's most developed economic zones, according to Chen Jianjun, director of the Research Center for Urban and Regional Development at Zhejiang University.
To become a new material R&D and manufacturing center, the province is focusing on development of the digital economy, with efforts made in the fields of artificial intelligence, the Internet of Things and quantum communications.