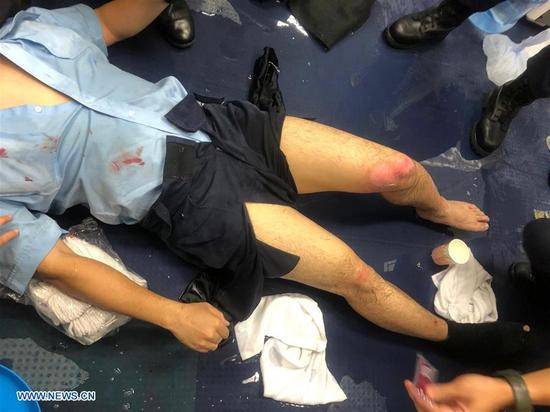 Photo taken on Aug. 11, 2019 shows an injured Hong Kong police officer. One police officer was seriously injured as gasoline bombs were thrown at police officers at multiple locations in Hong Kong on Sunday night. (Xinhua)
(ECNS) - A Hong Kong policeman received multiple injuries on Sunday when protestors turned violent, hurling hard objects and even gasoline bombs.
A policeman nicknamed Ah Feng, who is receiving treatment at a hospital, said he was among a team sent to disperse illegal protestors in Cheung Sha Wan and was attacked by gasoline bombs.
In trying to avoid injury, his right leg was hit so hard by an object that he fell to the ground.
"They are not protestors, but rioters," said Ah Feng, adding that they were trying to provoke the police.
"We were nearly hit by the gasoline bombs. I don't think they simply want to hurt us. They actually intend to take our lives."
Stephen Lo Wai Chung, Hong Kong's police commissioner, visited the injured policeman on Sunday night. Condemning the violence, he said authorities will investigate any conduct that threatens the lives of police.