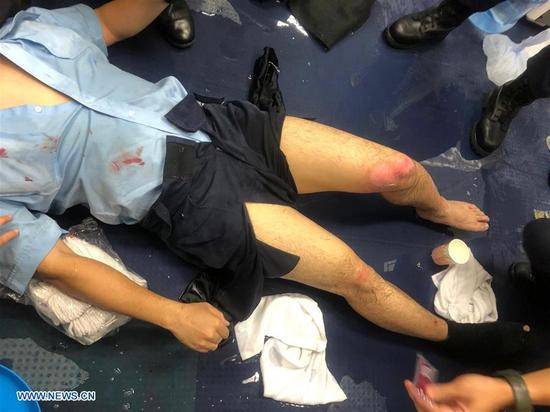 Photo taken on Aug. 11, 2019 shows an injured Hong Kong police officer. One police officer was seriously injured as gasoline bombs were thrown at police officers at multiple locations in Hong Kong on Sunday night. (Xinhua)
The Hong Kong Special Administrative Region government Monday said it was "outraged" over Sunday's "illegal protest" in the city, which saw rioters throwing petrol bombs at police.
A government spokesperson severely condemned the acts in a statement issued on Monday, vowing to bring "illegal protesters" to justice.
"We are outraged by the violent protesters' behaviors which showed a total disregard of the law, posing a serious threat to the safety of police officers and other members of the public."
The government also called for the public to say no to violence and help the government restore order in society as soon as possible.
Hong Kong police said one police officer sustained burns on his legs after being hit by a petrol bomb hurled by a radical protester while he was on duty in the Tsim Sha Tsui Police Station on Sunday.