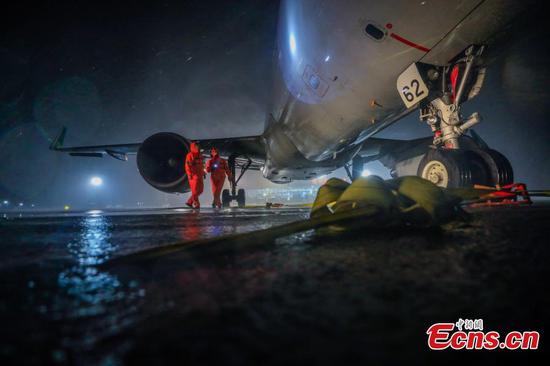 Emergency workers secure an airplane at the Yangzhou Taizhou International Airport in east China's Jiangsu Province, Aug. 11, 2019. (Photo/China News Service)
(ECNS) -- China's airports and railways that suspended services during Typhoon Lekima gradually resumed services on Sunday after the tropical storm had killed dozens in eastern China.
According to the China Railway Shanghai Bureau, high-speed trains through the Yangtze River Delta, including on the Shanghai-Kunming, Nanjing-Hangzhou, and Hangzhou-Huangshan lines, have resumed operations.
While at 5:50 am, Hangzhou relaunched its high-speed trains to Shanghai, Nanchang, Changsha, Nanjing, and Beijing, among other destinations.
Operations also resumed at Hangzhou Xiaoshan International Airport, with plans for 758 flights to begin again on Sunday.
A total of 28 people died and 20 remain missing after Lekima, the ninth typhoon of the year, which made landfall in east China's Zhejiang Province on Saturday.