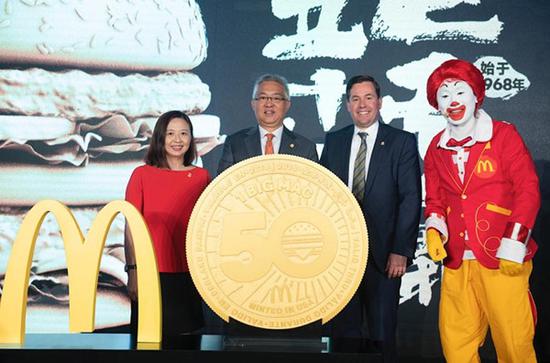 U.S. fast-food chain McDonald's Corp celebrated the 50th anniversary of its Big Mac hamburger in Shanghai, China, on Aug 3. (Photo provided to chinadaily.com.cn)
(ECNS) - A Beijing lawyer has warned of the risk of too much hype over MacCoin, the "currency" issued by McDonald's to celebrate the 50th anniversary of its iconic Big Mac burger.
McDonald's says it has more than 6.2 million MacCoins ready for distribution in more than 50 countries around the globe, and stores will hand them over to customers while supplies last. Each MacCoin can be redeemed for a free Big Mac anytime until the end of 2018.
McDonald's China started distributing the commemorative MacCoins in 2,500 outlets across the country on Aug. 6, including a random release of one million sets.
Media reported that customers queued up at McDonald's stores to get their own MacCoins, and some even fainted due to long waits.
A commemorative MacCoin has been auctioned for 80 yuan ($11.7) on Xianyu (Idle Fish), the used-goods mobile app of e-commerce giant Alibaba, while a set of five MacCoins, offered by McDonald's China, is now priced at 800 yuan amid the market craze.
However, no deals seemed to have been made, the Beijing Youth Daily reported.
Yue Shenshan, a lawyer with Yuecheng Law Firm in Beijing, said the McDonald's anniversary coins were a souvenir and voucher, and could not be regarded as legal tender.