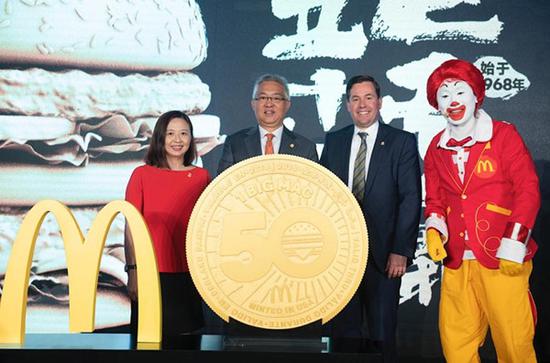 US fast-food chain McDonald's Corp celebrated the 50th anniversary of its Big Mac hamburger in Shanghai, China, on Aug 3. (Photo provided to chinadaily.com.cn)
U.S. fast-food chain McDonald's Corp said on Friday that its Big Mac hamburger has become the company's most popular beef burger in China and has been interpreted to have different symbolic meanings in the country.
"In 1990, the Big Mac came to the Chinese mainland together with the first McDonald's restaurant. Nowadays, it has become McDonald's most popular beef burger in China," said Phyllis Cheung, CEO of McDonald's China.
The latest data from the company showed that over 50 million Big Macs were sold in China last year, and Beijing boasts the highest sales in the country.
"Moreover, we are proud to see that the Big Mac has become more than just the name of a burger. It has also become a common word for consumers and the media, and is an indispensable part of their lives," she added.
Citing that the Big Mac has been interpreted to have various meanings including "strong economy" or "a competitive company" in China, she noted that this classic McDonald's product has gone far beyond any other burger.
Cheung made the comments during the celebration ceremony of the 50th Anniversary of the Big Mac, where the company also unveiled a set of collectable coins known as MacCoins to celebrate the Big Mac's birthday.
More than a million such MacCoins can be collected from McDonald's restaurants in the Chinese mainland starting Aug 6.
Each MacCoin is redeemable for a free Big Mac at any McDonald's restaurant in more than 50 countries and regions across the world.
Steve Easterbrook, McDonald's global CEO, said: "The MacCoin is the first food-backed collectable currency and transcends a single currency to commemorate our global iconic burger, while giving customers all over the world a chance to enjoy a Big Mac on us."
According to the company, a total of 1.3 billion Big Macs have been sold last year with an average of 41 burgers sold each second.