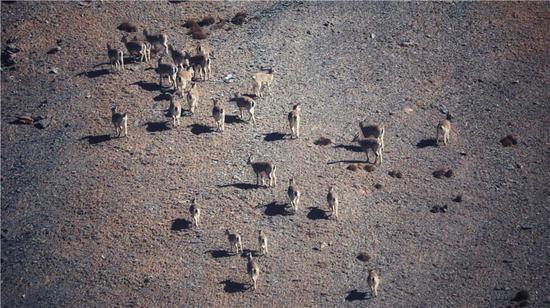 A group of bharals. They are good at climbing cliffs. (Photo by Lang Wenrui for chinadaily.com.cn)
The global wildlife population dropped 60 percent between 1970 and 2014 due to human activities, according to a report published by World Wildlife Fund (WWF) Tuesday.
The declines are especially pronounced in the tropics, with South and Central America suffering an 89 percent loss compared with 1970, said the "Living Planet Report."
The dominant causes of current biodiversity decline are overexploitation, such as overfishing, and agricultural activity.
According to the report, only a quarter of land on Earth is substantively free from the impacts of human activities.
Marine and freshwater ecosystems are also facing huge pressures. Almost 6 billion tonnes of fish and invertebrates have been taken from the world's oceans since 1950s, while freshwater species numbers have also declined 83 percent since 1970.
The report warned that losing those wild animals could pose great risks for human beings, as our food, health and security all rely on natural resources.
Human's survival depends on our natural systems, said the report, which called for "a new global deal for nature and people" to bend the curve of biodiversity loss.