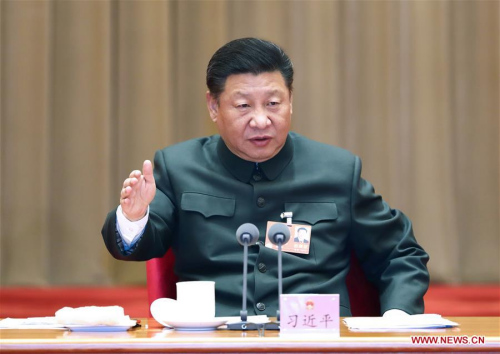 Chinese President Xi Jinping, also general secretary of the Communist Party of China (CPC) Central Committee and chairman of the Central Military Commission, speaks when attending a plenary meeting of the delegation of People's Liberation Army and armed police at the ongoing session of the 13th National People's Congress in Beijing, capital of China, March 12, 2018. (Photo/Xinhua)
Integration called crucial to building world-class defense
President Xi Jinping urged the armed forces on Monday to uphold and accelerate the civil-military integration strategy amid the country's efforts to build a world-class military. [Special coverage]
Xi, also general secretary of the Communist Party of China Central Committee and chairman of the Central Military Commission, told national legislators from the People's Liberation Army and the People's Armed Police Force that the civil-military integration strategy is crucial to building a world-class military.
He requested that the military improve its independent research and innovation abilities in defense science and technology and make more effort to transfer research achievements into equipment and weaponry.
Officers are called on to pay close attention to the advances in defense technology and development of new weapons around the world, give more support to key fields and strive for a leading position in the worldwide competition in defense science and technology.
The president ordered members of the military to be open-minded and share their research and development resources with others. Closed-door research and monopolies must be torn down to optimize the use of resources and stimulate interest and innovation in defense technology from the public, he said.
Referring to the ongoing reform of the national defense and the armed forces, Xi said it has effectively removed institutional obstacles in the way of the military's further growth. He asked officers to deepen the reform and focus on combat training.
Xi said that the establishment of a department dedicated to managing and supporting veterans will help improve public services for retired military personnel and make military careers more attractive to youngsters.
It was the second time in March that Xi has emphasized the significance of civil-military integration.
At the first conference of the Central Commission for Integrated Military and Civilian Development of the 19th CPC Central Committee this month, the president, also head of the commission, ordered the government and the military to make breakthroughs in the ongoing reform of defense sectors to boost civil-military integration.
He demanded at the conference that big strides be made this year in overhauling defense industries, the arms procurement system and price-setting and taxation mechanisms for weapons businesses.
Civil-military integration has become a national strategy and a priority on the government's agenda since Xi was elected top leader in 2012. It usually refers to the military and defense industries transferring technologies to civilian sectors and also including private companies on the military's suppliers list.
State-owned defense contractors still dominate the research, development and production of weapons and equipment for the military.