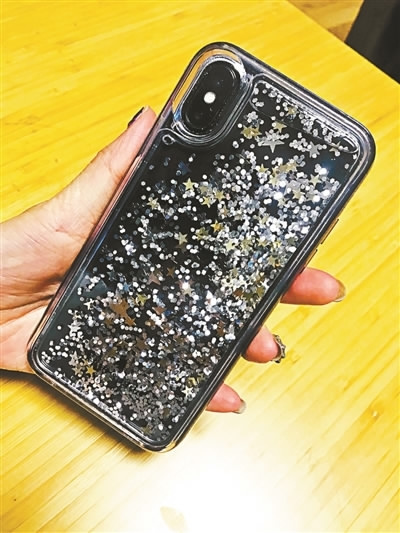 (Photo from China Youth Daily)
Next time you select a phone case, consider whether it can be taken on a flight, as users have been advised not to carry glitter water cases through Chinese airports to avoid unnecessary security trouble.
Many Chinese people opt to use cases to protect their cellphones on the one hand, and to beautify the devices on the other. Cases with sparkled ornaments, which are sealed within transparent shells and can float along when users shake the phone, have gained popularity for their fashionable look.
On China's leading e-commerce website Taobao, more than 550 cases were sold within a month at one single store. However, some holders recently encountered problems taking them on to flights.
According to Beijing Youth Daily, Ms. Wang was told recently that her glitter case had to be transported with check-in luggage on her way back to Beijing from Chengdu airport in southwestern China on account of its "unidentified liquid."
Wang explained that her phone case was produced by certified factories, so the liquid would not leak out. At the same time, she was not notified of the problem when purchasing the case online and she had previously carried it on aircraft at other Chinese airports.
When shop owners were asked about the problem, some said they were unaware of it, while others said it was prohibited on board as it contained "mineral oil" that could be "inflammable" if substandard.
Likewise, Chinese airports also give mixed responses to the issue, with airports in Beijing and Chengdu allowing security staff to decide after checking, Shanghai saying the cases are not permitted, and Shenzhen airport saying "it is possible to carry it if the amount of liquid is small and cannot be taken out."
Liquid is allowed in cabin baggage if kept in containers of no more than 100 milliliters each, based on China's civil aviation regulations.
Even though there is no universal regulation nationwide on the phone case so far, aviation authorities advise passengers that it is better not to carry them.