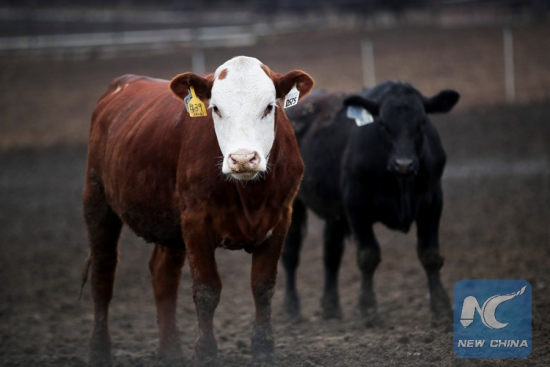 Picture taken on May 2, 2018 shows cattle raised by Bill Pellett, a farmer in the U.S. state of Iowa. (Xinhua/Wang Ying)
A trip to China in February has boosted the confidence of Bill Pellett, a farmer in the U.S. state of Iowa, in selling more of his farm's prime beef to Chinese customers.
During his one-week stay in China, Pellett met with representatives from seven to 10 different companies that have plans for importing American beef, including a hotel chain and JD.com, a major online retailer in China.
"We talked a lot about the quality and the safety of the product and tried to give as many insurances that this was the safest product from anywhere in the world. I think that's important to the Chinese people," Pellett said.
Last June, Pellett's beef was in the first boxes of U.S. beef shipped to China shortly after the United States and China reached a deal to re-open the Chinese market to U.S. beef. The beef was shipped by Pellett's exporter Greater Omaha Packing Co.
China banned U.S. beef in December 2003 after the mad cow disease struck U.S. cattle. Before the ban, the United States used to be China's top foreign supplier of beef.
Although Pellett's foreign clients are primarily European nations, including Germany, Italy and Switzerland, he sees good potential of expanding business with China.
"There will be a slow building of the demand for our product because of the quality and the health insurances," he said, highlighting the need to change the way their beef is presented and make it better fit the Chinese lifestyle and customs.
Though only a small quantity is being exported to China, the American beef is "something that will gain popularity as time goes on," Pellett said.
He is now feeding around 900 head of cattle on his farm while growing hundreds of acres of corn and soybeans in the Midwestern state. A portion of the grain will hopefully make its way into the Chinese market someday, he said.
"GREAT COUNTRY, GREAT PEOPLE"
During his first and only trip to China, Pellett visited Beijing and Shanghai, and had a chance to travel on a high-speed train.
He was amazed by what he saw.
"I was very impressed by the infrastructure because I did not expect it to be as good as it was. Just the ability and the potential of the country was very, very surprising to me," he said.
The trip, he said, was "very fruitful" in that it helped him learn more about the Chinese people, business dealings in China and how to effectively present U.S. beef.
WIN-WIN SCENARIO TO BE WORKED OUT
Citing other farmers from his community, Pellett said they are highly interested in the huge opportunities that such a large and growing market as China could bring.
"They want the [Chinese] market to happen...We don't know a lot about China, but we want to know more. We don't want politicians to get in the way of what's best for both countries," he said.
Aware of some fellow farmers' concerns over the current U.S.-China trade tension, Pellett said he is optimistic about the prospect.
In the end, he said, "the needs of the people will come to the surface" and arrangements will be made accordingly to ensure that people get what they want.