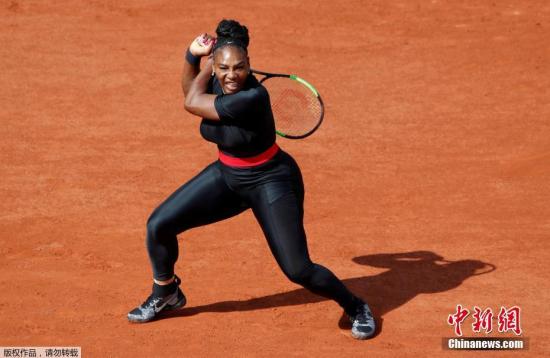 Photo taken on May 29, 2018 shows Serena Williams of the U.S in action during French Open. (Photo/Agencies)
World No. 32 tennis player Dominika Cibulkova recently questioned the fairness of Serena Williams' protected No. 25 seeding to Wimbledon, after the 36-year-old American gave birth to a daughter last September and was off the tour for more than a year.
The 23-time Grand Slam winner Williams insist players returning from pregnancy should have protected seedings as well as protected rankings. Her current 183rd world ranking is guaranteed because WTA rules allow women who miss time because of a pregnancy to enter events based on their pre-absence ranking.
But such guarantee is not for seeding in other Grand Slam tournaments, because seedings were set up to maximize the chances of top players meeting in the later stages of the tournament rather than early thereby potentially reducing competitiveness at later stages, according to WTA Player Council.
However, the All England Club on Wednesday announced to reserve the right to make a change by placing Williams at No. 25 so that it "is necessary to produce a balanced draw." As a result, Williams was offered "protection," and she could only face someone seeded No. 1 through No. 8 in the third round.
Different from Wimbledon, the French tennis federation In May did not secure the seeding of Williams as she wound up beating the women ranked No. 11 and No. 17 en route to reaching the fourth round of the French Open. But because of an injured pectoral muscle, Williams pulled out of Roland Garros before what would have been a showdown against five-time major champion Maria Sharapova.
"I don't think it's the right thing to do," said 29-year-old Cibulkova, who is a two-time Wimbledon quarterfinalist and the 2014 Australian Open runner-up.
"I think it's just not fair. I have tried, and I should be seeded. If they put her in front of me then I will lose my spot that I am supposed to have. I was a former number four, and it's also like why should I not be seeded if I have the right to be?" she added as she will not benefit from a seeding and could play anyone in the field in the first round.
Speaking of the maternity leave, Victoria Azarenka of Belarus is another player who is returning following childbirth in 2017. She is the only Belarusian player ever to win a Grand Slam singles title and is part of the WTA Players Council. She said that a balance had to be found between the returning player and those who worked really hard and had moved up into seeding positions in the meantime.
"It's a difficult question because if we do make that rule, it will have to be for everybody. So we have started this conversation a little bit in the player council. I'm a part of the player council. So we need to make sure that everybody is on the same level," said Azarenka, who also suggested the schedule should separate players returning from pregnancy from those injured ones.
"To give birth is the best thing in the world. It's more than a sport," said player Simona Halep of Romania, who achieved her Grand Slam triumph at the French Open in June this year.