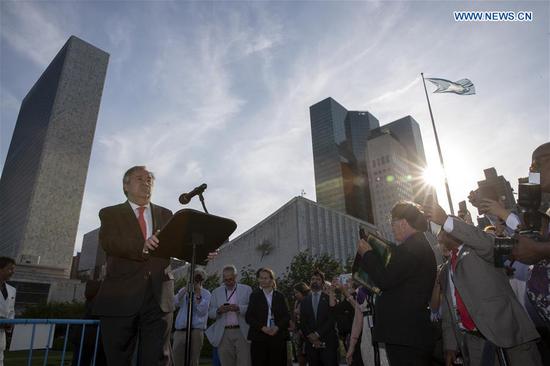 United Nations Secretary-General Antonio Guterres (L, Front) addresses the 70th anniversary celebration of the United Nations Correspondents Association (UNCA) at the UN headquarters in New York, on June 26, 2018. (Xinhua/Li Muzi)
As Secretary-General Antonio Guterres commended the UN press corps on the 70th anniversary of the UN Correspondents Association (UNCA), saying their job was among the most dangerous in the world, there were several Chinese touches to the event.
"There are two professions that are most dangerous in the world. Those are humanitarian workers and journalists," Guterres, who served as UN high commissioner for refugees from 2005 to 2015, said.
Over 80 reporters were reported to have died in the past year and some 250 others detained around the world.
The UN chief said reporters are spokespersons for social justice and promoters of international peace and development.
Guterres was surprised to find a painting depicting him among such leaders as Chinese President Xi Jinping, U.S. President Donald Trump, Russian President Vladimir Putin and leader of the Democratic People's Republic of Korea Kim Jong Un.
"It's a surprise gift," the UN chief said on learning that the 80-year-old artist, Peng Zhaoguang, had flown from Shanghai to New York for the occasion.
Guterres, who has spoken highly of China's role in promoting peace on the Korean Peninsula, said advancement of the peace process on the Korean Peninsula has always been a particular concern of the UN Security Council.
Golden Hu, an entrepreneur who has been living in the United States for more than 20 years, said he was surprised to find many Chinese contributing to the celebratory event. The "birthday cake" was a gift by a Chinese.
Jasmine, a Chinese restaurant three blocks away from the UN headquarters, was one of the catering partners, providing food including sweet and sour fish, spicy chicken, sweet and sour ribs, mapo tofu and Yangzhou fried rice.