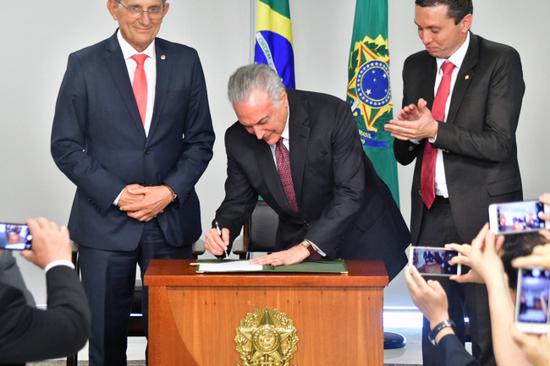 The photo, taken on June 26, 2018, shows Brazilian President Michel Temer signing a bill to recognize August 15th as National Chinese Immigration Day. [Provided to China Plus]
The Brazilian government has decided to set up a 'National Chinese Immigration Day' to honor the contributions of the country's Chinese roots every year.
Brazilian President Michel Temer has signed a bill to officially recognize August 15th as 'National Chinese Immigration Day.'
One of the country's lawmakers who proposed the bill says establishment of 'Chinese Immigration Day' will help spread Chinese culture in Brazil and allow Brazilians to learn more about China.
Chinese laborers were first brought into Brazil in the early 19th century to work on local tea plantations. A secondary wave of people from China began settling in the city of Sao Paulo around the turn of the 20th century.
"Chinese immigration began in Brazil around 200 years ago, with official records showing the first group of people from China arriving in the country on August 15th," said Temer during Tuesday's signing ceremony. "China now is Brazil's largest trading partner and the two countries have seen extensive cooperation in many fields. We also cement our dialogue mechanism under the BRIC framework."
Song Yang, Charge d'Affaires of China's Embassy in Brazil, notes August 15th also marks the anniversary of the establishment of diplomatic ties between China and Brazil, a significant day for bilateral relations between the two countries.
China and Brazil established official diplomatic ties on August 15, 1974.