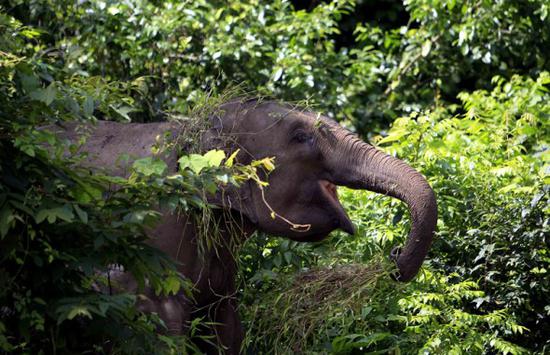 An elephant in the Xishuangbanna Natural Reserve's Mengyang section in Yunnan province. (Photo For China Daily/Li Yunsheng)
Southwest China's Yunnan Province will build a "dining area" for wild Asian elephants to solve conflicts between the endangered animal and local residents.
The dining area will be located in a 137.5-hectare habitat area for 18 wild Asian elephants in Menghai County of Dai Autonomous Prefecture of Xishuangbanna, which also overlaps with the 35,000 people from 13 villages who live there.
An elephant habitat reconstruction project will also be launched, while the 51-hectare dining area will grow corn, sugarcane, bamboo and bananas.
"Protecting the lives and property of local residents is key to Asian elephant conservation, which is also the most difficult part," said an official with the forestry bureau.
The bureau said the reconstruction work and the establishment of the dining area would provide elephants with a relatively stable habitat that could further safeguard people's lives and property, and reduce human-elephant conflicts.
The province has reported damages of houses and facilities, as well as deaths and injuries caused by wild elephants over the past few years.
Wild Asian elephants, mainly found in Yunnan, are under Class A protection in China. With stronger environmental and wildlife protection efforts, the number of wild Asian elephants in the country has grown to about 300.