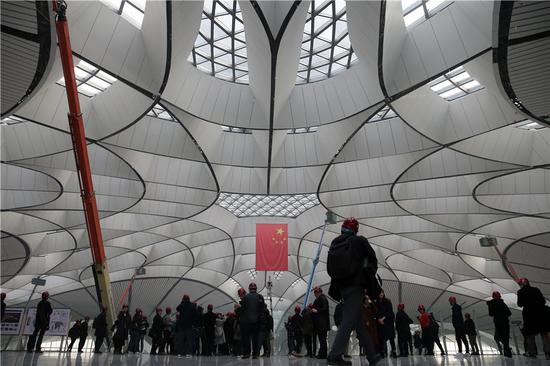 Chinese and foreign media journalists visit Beijing Daxing International Airport on March 1. [Photo by Wang Zhuangfei / China Daily]
Flight trials to be undertaken before new facility opens for passengers in October
Beijing Daxing International Airport, a transportation hub that connects to the subway and highspeed railway, will start operations before Sept 30, according to the country's top civil aviation official.
Feng Zhenglin, head of the Civil Aviation Administration of China, said the main construction work has been completed, and interior work on the main terminals is nearly done. Mechanical and electrical facilities are undergoing trial runs. All work is expected to be completed by June 30.
A member of the National Committee of the 13th Chinese People's Political Consultative Conference, Feng told media on the sidelines of the annual session that the Daxing airport has carried out flight inspections and finished 19 days ahead of schedule, ensuring that aircraft control facilities are ready for operation.
Meanwhile, a notice posted on the administration's website on Wednesday said applications by airlines to open 10 international routes departing from the new airport have passed their preliminary assessments.
If there are no complications, the new routes - to destinations including Cairo, Moscow and Busan - will soon be formally approved by the administration.
Feng said the new airport will be a "four star" facility built to large-scale international modern airport standards. He added that it will be a safe, green and smart cultural airport that will be passenger-oriented.
The new airport, which is located at the junction of Beijing's Daxing district and Langfang, a city in neighboring Hebei province, is designed to handle up to 45 million passengers annually by 2021. This figure is expected to rise to a total of 72 million passengers by 2025.
Liu Shaoyong, chairman of China Eastern Airlines and a national political adviser, said during the two sessions that the Daxing airport will carry out flight trials before going into operation in October.
Both the new airport and the existing Beijing Capital International Airport are expected to process more than 150 million passenger trips combined, or even 200 million in the future, said Liu, adding that this is a good opportunity for the development of the civil aviation industry.
Feng added that the country's civil aviation sector would continue to seek improvement in punctuality, paperless ticketing, in-flight Wi-Fi availability, customer service and credit-based security checks.
Paperless ticketing was used for 225 million passenger trips last year in China, accounting for 37 percent of total ticketing. Feng said the use of paperless ticketing will rise to 70 percent this year. The administration will also promote its new security check procedure, which aims to speed up the process.