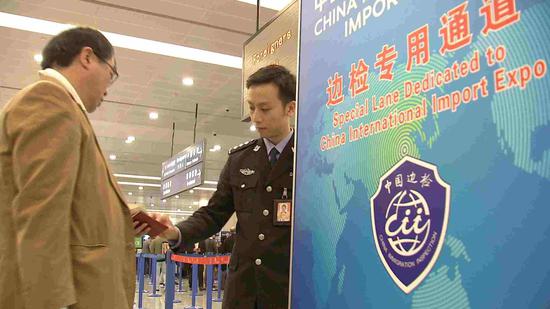 CGTN Photo
Special: China's First Import Expo
Shanghai immigration authorities have released new measures to speed up the immigration process for the expected surge in foreign travelers ahead of next week's China International Import Expo.
China's 144-hour visa-free transit policy is widely appreciated among short-term visitors to the country. And now, ahead of the China International Import Expo, it's getting an upgrade.
Applicants who submit their information in advance can print forms from machines upon arrival and significantly reduce their wait time at the border, due to the newly announced online pre-arrival clearance system for foreign visitors.
Ye Jun, the director of Bureau of Exit-Entry Administration, Shanghai Municipal Public Security Bureau said: "The upcoming International Expo will last for six days. There might be a huge number of foreign travelers who will use the 144-hour visa-free policy to participate in this event in Shanghai. The online application system will be launched officially on November 1, to benefit the Expo's participants."
That policy was first introduced in January 2016, in Shanghai, Hangzhou, Nanjing, and Guangzhou, to facilitate transit for international travelers.
Nino Romano, a German passenger, said: " Normally, I am making Asia trip, moving from Frankfurt to Shanghai, and then to Korea and Japan mostly. And that just speed up very much, people are very friendly, and it takes very small (amount of) time to take me to the customs."
Immigration inspection officers have opened special lanes for CIIE participants to bypass queues and speed their way through the inspection process by showing their CIIE invitation.
They also added 24 E-channels at the Pudong International Airport, bringing the total number to 120. Over 10 million international travelers have used them at Pudong Airport this year. That's over one-third of all international arrivals.
Zhang Su, the deputy team leader of the Shanghai General Station of Immigration Inspection, said: "E-channels are for electronic passport holders, most of whom are Chinese. By increasing the number of E-channels and their users, more inspection officers can be assigned to deal with foreign travelers and reduce their waiting time."
Over 180 immigration inspection officers at the airport are ready to offer services in 12 languages, helping passengers to deal with immigration questions and general inquiries.
Du Wei, an officer of the Shanghai General Station of Immigration Inspection, said he is very proud that we can provide warm and efficient service to international travelers right after they arrive in China.