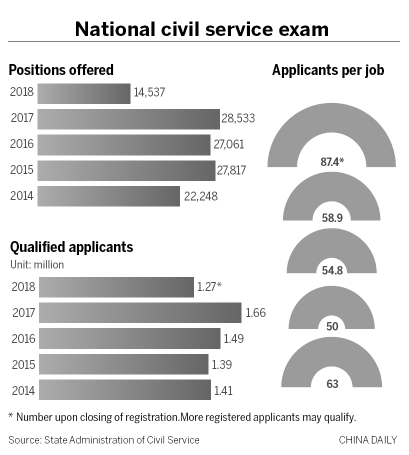 Competition more fierce than usual will characterize this year's national civil service exam as the job vacancies shrank by almost half.
The annual recruitment effort offered 14,537 positions, compared with more than 28,000 last year.
More than 1.4 million applicants had registered for the exam as of the deadline on Wednesday, down by 15 percent year-on-year, according to Huatu.com, a leading training agency for the exam.
Applicants for civil service are competing for jobs in 75 central government agencies and 20 institutions under them, according to the State Administration of Civil Service.
"The steep drop mainly resulted from the sharp decline of taxation-related vacancies," Li Manqing, president of Huatu.com, said during a livestream. "The big change in tax-related positions was mainly due to the institutional restructuring of taxation authorities at central and local levels."
Taxation-related vacancies decreased to 6,046 this year from 17,701 in 2017.
Under the institutional restructuring plan approved by the National People's Congress in March, revenue departments will be managed by central and provincial governments instead of by the central government alone.
"That resulted in the central revenue department's reduced demand in the exam for talent," Li said.
Wu Jiang, former director of the Chinese Academy of Personnel Science, thought another factor also might have contributed to the decline.
"All departments have natural turnover of staff, but job vacancies might not have been filled as a result of the institutional reform," he said.
The ratio of qualified applicants to vacancies this year is higher than 87-to-1, while the ratios from 2014 to 2017 ranged from 50-to-1 to 63-to-1, according to the administration.
Since launching the annual exam in 1994, competition for civil service jobs has always been fierce, as they have long been perceived as secure, lifelong positions with stable pay, especially at the local level.
There were 4,040 applicants seeking the position of administrator for the Guangdong Meteorological Bureau, which was the most competitive vacancy. The lowest-level employee positions of the State Administration of Taxation's branches in Shanghai and Sichuan were each sought by more than 2,000 people.
Candidates will take the national exam, which is scheduled for December across the country. The majority of the positions in Party and government agencies above provincial level require two years of grassroots work experience, the administration said.