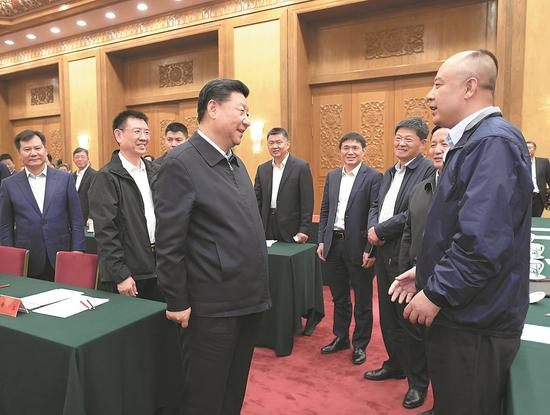 President Xi Jinping greets entrepreneurs, mostly from small and medium-sized companies, at a symposium in the Great Hall of the People in Beijing on Thursday. (Photo/Xinhua)
President Xi Jinping sent a strong signal of maintaining supportive policies toward private businesses, including such measures as tax reductions, at an unusual meeting with entrepreneurs on Thursday.
Xi, also general secretary of the Communist Party of China Central Committee and chairman of the Central Military Commission, was briefed by 10 entrepreneurs, mostly from small and medium-sized companies, at the Great Hall of the People. He talked with them about their difficulties and required that related government departments study how to address the problems properly.
After the briefing, Xi delivered a speech pledging to support the development of private businesses as always.
Private businesses' status and role in China's economic and social development are unchanged; the Party's policies of unswervingly encouraging, supporting and guiding the development of private businesses are unchanged; and the Party's dedication to improving the environment and providing more opportunities for private businesses is unchanged, Xi said.
China's private businesses can only become stronger in the process of building a moderately prosperous society in all respects, he said, and they should play on a broader stage.
Since the reform and opening-up policy was introduced 40 years ago, private businesses have become an important force in promoting the country's development, Xi said, adding that private companies have contributed to entrepreneurship, employment, innovation and revenue.
The Party's stance is clear and consistent on upholding its basic economic system, which has already been enshrined in the country's Constitution and the Party's Constitution, Xi said.
He added that the strengthening of the public sector does not contradict support for the private sector.
All private companies and private businesspeople should focus on the development of their businesses without doubts or anxiety, Xi said.
Xi said the problems of some private firms in such areas as market, finance and transition are caused by multiple factors, and these problems will be resolved in the process of their development.
It's natural that China, which is in the process of development, comes across problems such as rising uncertainties in economic development, increasing pressure from economic slowdowns and more difficulties for businesses, he said, adding that China has great potential from its huge market and the rising middle class.
Xi introduced six measures, including easing companies' tax burdens, resolving private companies' difficulties in borrowing money, building a fairer environment for competition and protecting the safety of private businesspeople and their wealth.
The president's commitment to supporting private businesses is in line with his remarks during his recent inspection tours in Liaoning and Guangdong provinces, where he visited private companies and reaffirmed the Party's unswerving support for private businesses.
Lu Weiding, board chairman of Wanxiang Group, an auto components manufacturer based in Hangzhou, Zhejiang province, said after the meeting that he was greatly encouraged by Xi's commitment to supporting private businesses.
"General Secretary Xi talked with us face-to-face, and we are assured that the Party's supportive policies for private businesses and entrepreneurs have never changed in the 40 years since the reform and opening-up began," he said.
Lu said China has comprehensive industrial chains and an excellent workforce with a good educational background. He said he is quite confident about the future of his business.
Yi Huiman, chairman of the Industrial and Commercial Bank of China, said the president's remarks put private entrepreneurs' minds at ease.
ICBC will make further efforts to implement Xi's requirements on supporting private businesses and provide better financial services to private companies, he said.