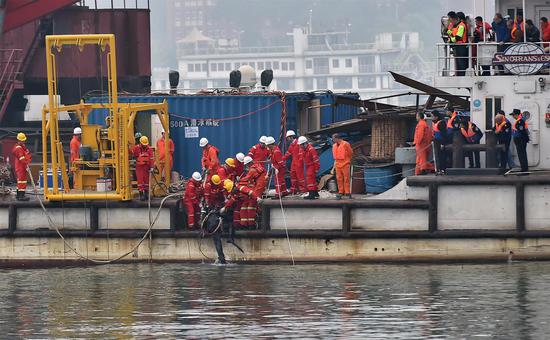 A diver gets out of the water after participating in the search for the bus on Tuesday. (ZOU YI/FOR CHINA DAILY)
Updated: The black box of bus that plunged into Yangtze River has been found and handed over to local public security bureau.
Nine confirmed dead in bus plunge
7 bodies recovered; salvage work hindered by depth of Yangtze River
A rescue team found nine people dead after a bus broke through a guardrail and plunged into the Yangtze River with an estimated 15 passengers on board in Chongqing on Sunday morning.
Seven bodies have been recovered so far, the Ministry of Emergency Management said in a statement on Tuesday. The identities of three have been confirmed. The cause of the crash is still under investigation.
The bus swerved suddenly onto the wrong side of the road on the Second Yangtze River Bridge in Wanzhou district, more than 50 meters above the water. It struck an oncoming red sedan before breaking through the guardrail and falling into the river.
A woman surnamed Kuang, the car's driver and sole occupant, received minor injuries and was discharged from the hospital on Tuesday, according to local media.
The ministry said rescuers had located the bus 71 meters below the river's surface on Monday with the help of sonar technology and underwater robots.
Teams planned to find and retrieve all the bodies in the bus and then attach ropes from floating cranes to lift the vehicle out.
More than 70 rescue boats had arrived at the scene, including three floating cranes with a total capacity of 125 metric tons. Eighteen professional divers are carrying out salvage operations, with another 20 divers serving as backups.
The divers found that all the windows of the bus had been broken and it rested with its nose down at a 30-degree angle several meters away from the face of an underwater cliff.
The salvage work is difficult and dangerous, according to the rescue team. The pressure at 71 meters underwater is 8.5 times standard atmosphere, and divers need to use a special mix of oxygen and helium, said Zhou Dongrong, from Shanghai Salvage Co, a State-run salvage company.
"The proportion of oxygen and helium must be very accurate according to different water levels," he said. "Any mistake will cost the divers their lives."
In addition, a diver can only work up to 35 minutes while breathing the mixture, and will require five to six hours to decompress. After that, they need to rest 24 hours before diving again.
The complex underwater situation and limited visibility have also hampered rescue efforts.
The statement cited many rocks and turbulent currents underwater, with visibility at about 1 to 2 meters.