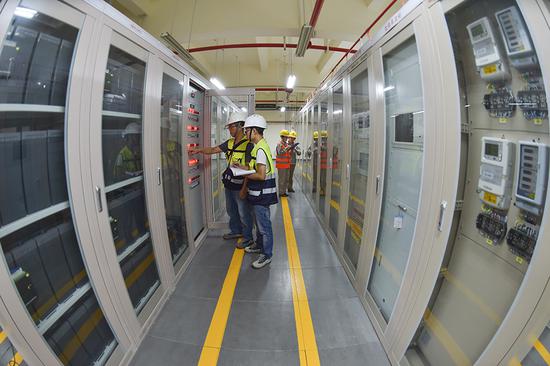 Technicians debug an intelligent electric transducer made by Fujian Jinhua Integrated Circuit Co Ltd in Fujian Province, on July 9, 2018. (Photo/Xinhua)
China on Tuesday urged the United States to stop interfering with normal corporate cooperation, in response to the latter's new restrictions on exporting U.S. technology and products to a major Chinese chipmaker.
The Ministry of Commerce said on its official website that China is against the U.S. practice of overstating national security concerns and placing unilateral restrictions on companies.
Foreign Ministry spokesman Lu Kang said earlier on Tuesday that the country hopes that foreign governments can create a level playing field for Chinese enterprises.
The comments came after the U.S. Department of Commerce restricted exports, re-exports and transfers of U.S. commodities, software and technology to Fujian Jinhua Integrated Circuit Company Ltd, citing national security concerns.
The restrictions, which took effect on Tuesday, came as China and the U.S. remain locked in a prolonged trade dispute, with additional tariffs imposed on a wide range of products from each other.
The decision also comes amid China's ongoing push to beef up its ability to make high-end chips in the hope of reducing reliance on key foreign technologies.
Wang Yanhui, secretary-general of the Mobile China Alliance, said the move is the latest example of how the U.S. leverages national security concerns as an excuse to protect its homegrown technology industry, and it is used by the U.S. to gain more bargaining power for negotiations amid a mounting trade dispute.
"The restriction is protectionism, and out of concern that Chinese competition could threaten American companies. But in fact, a wide technology gap still exists between the two countries in semiconductors. The U.S. is leveraging its current technological prowess to corner Chinese players," Wang added.
Jinhua has invested 37 billion yuan ($5.7 billion) in a memory-chip plant-essential components for smartphones and personal computers. The company is in a legal dispute with its main competitor, U.S. chipmaker Micron Technology Inc, a major supplier of the U.S. military.
Jinhua did not immediately respond to requests for comment.
Earlier this year, Chinese telecom equipment maker ZTE Corp was also blocked from accessing U.S. technology over its exports to Iran. The ban was later lifted after ZTE paid huge fines to the U.S. government and replaced its executive team.
Roger Sheng, research director at market research company Gartner Inc, said the new restriction is hurting the global supply chain by adding uncertainties and anxiety to the industry.
"Now, the U.S. can do whatever it wants to protect its companies. Anyone can be the next target after Jinhua … U.S. companies also feel worried over future business because they have made huge profits by selling semiconductor technology, material and components to China."
China is the world's largest semiconductor market. Its annual chip imports totaled more than $200 billion in recent years.