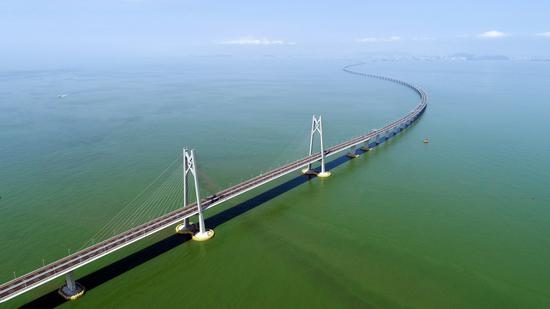 The Hong Kong-Zhuhai-Macao Bridge. (Photo/Xinhua)
Thousands of passengers vied to be among the first to ride over the world's longest sea span, as the Hong Kong-Zhuhai-Macao Bridge opened for traffic at 9 am Wednesday morning.
Many began lining up to ride shuttle buses across the bridge, departing from Hong Kong, Macao and Zhuhai, Guangdong province.
With the first sea span across the Pearl River Estuary now open, a journey that used to take about four hours between Hong Kong and Zhuhai or Macao now takes less than an hour. One-way shuttle bus trips cost 58 yuan ($8.35), and passengers can also travel by cross-boundary coaches, private cars or taxis.
The one-way cost for private cars is 150 yuan.
By 4 pm on Wednesday, Hong Kong Port recorded 9,994 inbound and 12,950 outbound travelers, the Immigration Department in Hong Kong said.
In Zhuhai, the port served about 20,000 cross-boundary passengers, and another 30,000 people came to witness the historic day and have a first look at the brand-new bridge from Zhuhai Port, according to official figures.
Chen Li, vice-general manager of the port operator, an affiliate of Gree Real Estate, said the first day of operations at the port went smoothly. The port's immigration department kept all officers on duty so that there were sufficient counters to conduct immigration clearance procedures.
The port operator asked its parent company to send 200 staff members as volunteers to help handle crowds and guide passengers at the new 327,000-square-meter boundary-crossing facility in Zhuhai, Chen said.
The volunteers will stay on duty from 6 am to 10 pm until at least Sunday, depending on future passenger volume, to welcome the first weekend after the bridge's opening, Chen said.
A total of 800 one-way shuttle bus journeys had traversed the bridge as of 6:30 pm, serving about 30,000 passengers, said Zhang Guangyou, chairman of the bridge's shuttle bus operator, Hong Kong-Zhuhai-Macao Bridge Shuttle Bus Co Ltd.
Zhang said the frequency of buses exceeded the 640 trips a day previously required by government authorities to ensure adequate service. Shuttle buses departed every three minutes during peak hours and the company's operation on the first day was smooth.
He said the company will review future operations and optimize bus trip frequency for the next peak period this weekend.
Mark Clayton, 34, a Briton living in Zhuhai, was among the 30 passengers on the first shuttle bus from the bridge's Hong Kong Port to Zhuhai Port.
The bus departed at 9:15 am and arrived 40 minutes later.
Clayton, a financial services professional who works at a British manufacturer in Zhuhai, said it was an awesome experience and that he views the bridge as a major feat of engineering.
Liu Nian, a 36-year-old travel agent in Zhuhai, took her 4-year-old daughter to Hong Kong Disneyland on a cross-boundary coach that operates on the bridge routes. "The trip is really fast and comfortable. It's great that Hong Kong has become closer to the mainland," she said.