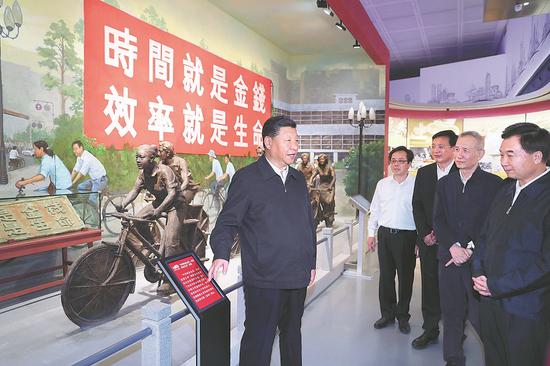 President Xi Jinping, also general secretary of the Communist Party of China Central Committee, visits an exhibition in Shenzhen about the 40th anniversary of reform and opening-up in Guangdong province on Wednesday. The banner says, "Time is money, efficiency is life". (Photo/Xinhua)
Special: 40YearsOfReform
President Xi Jinping visited an exhibition on Wednesday in Shenzhen on Guangdong's 40 years of reform and opening-up, the third stop of his ongoing inspection tour in the province.
It was the second time in six years that Xi has visited the city, a onetime small fishing village that turned into the frontier for China's reform and opening-up campaign.
Xi chose Shenzhen as his first stop outside Beijing after his election as general secretary of the Communist Party of China Central Committee in 2012.
On Tuesday, Xi visited an e-commerce industrial park in the city of Yingde, part of Qingyuan in central Guangdong, after attending the ceremony that opened the Hong Kong-Zhuhai-Macao Bridge in Zhuhai.
At the park, he visited a training center for young entrepreneurs planning e-commerce startups and asked the trainees what they had learned and about their future plans. He also heard about sales of local agricultural products.
Xi called for more effort and targeted measures to solve the problem of structural imbalances in Guangdong's urban and rural development and to change weaknesses into potential strengths.
Lesser-developed areas in east, west and north Guangdong should give full play to their strengths and advantages to promote balanced development of primary, secondary and tertiary industries in order to boost potential for the province's development, he said.
Later, Xi visited a toy factory and a poverty-stricken family in Lianzhang, in Yingde's township of Lianjiangkou, and talked with the villagers.
He said no one should be left behind when building a moderately prosperous society and asked grassroots Party organizations to play a strong role in fighting poverty in order to achieve the ultimate triumph.
Xi also stressed the necessity of speeding up rural revitalization and realizing agricultural and rural modernization, adding that life will be better for Chinese farmers.
Xi proposed the rural revitalization strategy at the 19th National Congress of the Communist Party of China last year.
On Wednesday afternoon, Xi visited Yongqing alley in the center of Guangzhou's old town area. He looked over reconstruction and the conservation and renovation of historical and cultural buildings.
He also learned about the inheritance and protection of opera at the Cantonese Opera Art Museum.