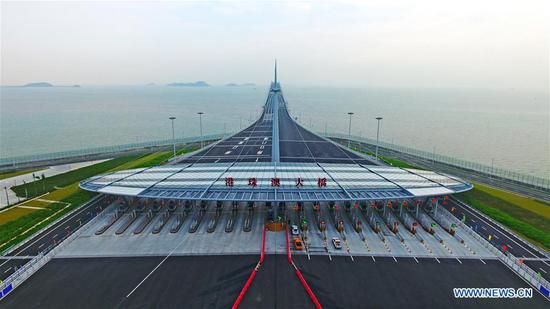 Aerial photo taken on Oct. 24, 2018 shows the toll gate of the Hong Kong-Zhuhai-Macao Bridge in Zhuhai, south China's Guangdong Province. The bridge officially opened to traffic at 9 a.m. on Oct. 24. (Xinhua/Liang Xu)
Special: Hong Kong-Zhuhai-Macao Bridge
The first batch of cross-boundary vehicles on Wednesday left the Hong Kong Boundary Crossing Facilities to drive on the world's longest cross-sea bridge.
The 55-km bridge connects China's Hong Kong Special Administrative Region (SAR) in the east and the Macao SAR and Zhuhai of Guangdong Province in the west.
The Hong Kong-Zhuhai-Macao Bridge is the result of nine years of construction.
The bridge officially opened to public traffic at 9:00 a.m. local time (0100 GMT) on Wednesday, as the first batch of travelers entered the service hall for customs clearance.
At 9:30 a.m. local time (0130 GMT) the first batch of cross-border buses full of passengers, as well as other vehicles hit the road on the bridge for Macao or Zhuhai on the other ends of the Y-shaped bridge.
Without the bridge, drivers from Hong Kong, which faces Zhuhai across the Lingding Channel had to detour via several cities including Shenzhen and Dongguan to reach Zhuhai and other cities in the western part of Guangdong.
Crossing the mega bridge is a bucket list experience for many residents. A Hong Kong resident surnamed Lee in his 70s was one of them. He got up early on Wednesday to take the first bus to ride on the bridge, only to catch a glimpse of the grand project.
The bridge will slash road travel time from Hong Kong to Macao and Zhuhai remarkably.
A Hong Kong resident surnamed Wong works in Macao and has to commute between Hong Kong and Macao regularly. He usually takes ferries, as road travel would take about three hours.
But the new bus service via the bridge will take less than an hour and the ticket is cheaper, and he plans to take it as a key commuting alternative in the future, Wong said.