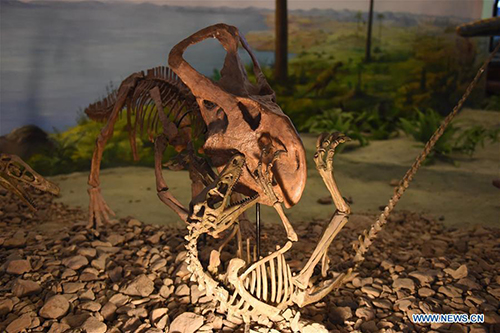 Photo taken on Aug. 13, 2017 shows dinosaur fossils displayed at the dinosaur museum of Dinosaur National Geology Park in Jiayin County, northeast China's Heilongjiang Province. Over 10 fossilized dinosaur skeletons have been excavated and pieced in the geopark. (Xinhua/Wang Jianwei)
A previously discovered 130 million years old dinosaur fossil from North China's Hebei Province may belong to a new genus that experts say could change existing understanding of the evolution of vertebrates.
The fossil was completely preserved and is the biggest such dinosaur found in this biological group so far, leading to its "high research value," said Zhang Fucheng, a professor at Linyi University and also the leader of the excavation program, Yanzhao Metropolis Daily reported on Wednesday.
According to preliminary examination by the China national expert committee on paleontology and fossils, the dinosaur fossil found in the biological group is a suspected new genus.
"This fossil is helpful to research the evolution of creatures in the early Cretaceous," Xing Lida, a dinosaur footprint expert of China University of Geosciences, told the Global Times on Wednesday.
Xing said that it was significant to discover this fossil in the biological group as scientists had discovered many bird fossils there but this was the first giant dinosaur.
The fossils were dug up in Fengning county of the city of Chengde in North China's Hebei Province.
The discovery has remarkable meaning for research into the origin and evolution of creatures, said the Chinese experts.
They added the research is also likely to rewrite the evolutionary history of ancient vertebrates.
Xing noted that the discovery is just at its preliminary stage.
The excavation program began in October last year when staff at the museum of paleontology fossils of Fengning came across some parts of the fossil, the museum curator Wang Chaoling was quoted by the Xinhua News Agency as saying last month.
Wang told Xinhua that parts of the dinosaur fossil contained two thigh bones and five tailbones as well as scapulas.
China boasts enormous numbers of dinosaur fossils with an estimated 200 kinds, or a quarter of the world's, according to a Xinhua report published in September.