China will roll out the red carpet for Japanese Prime Minister Shinzo Abe on Thursday, which is also the first official visit to China by a Japanese prime minister in seven years.
Changes in Abe's China policies
The resumption of high-level visits is part of the increasing rapprochement between China and Japan after years of ups and downs.
In 2012, Sino-Japanese ties slipped into an "ice age" over the island disputes.
The tensions began to thaw in November 2014 when world leaders gathered in Beijing for a summit of the Asia-Pacific Economic Cooperation (APEC).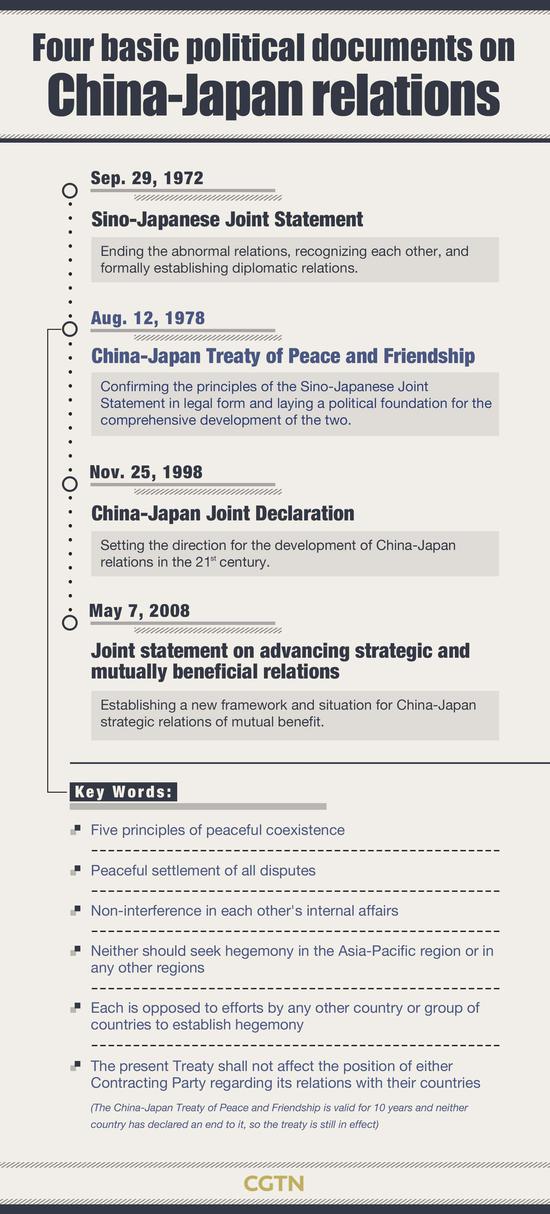 On the sidelines of the event, China and Japan reached a four-point consensus to improve bilateral ties, where Chinese President Xi Jinping had a meeting with Abe.
Since then, leaders of the two countries have resumed interactions on the sidelines of multilateral gatherings. The prime minister visited China in September 2016 for a summit of the Group of 20 (G20) in Hangzhou.
Another landmark event was the meeting between Chinese President Xi Jinping and Abe during the G20 Summit in Hamburg, Germany in July 2017, in which Abe's administration was explicit about his intentions to improve Sino-Japanese ties.
Two months later, Abe paid a visit to the Chinese embassy in Tokyo for a ceremony marking China's National Day to show goodwill.
Cold weather, warm ties
The bilateral ties kept improving when Chinese Premier Li Keqiang visited Japan this May, which brought the ties back to the right track.
It was also the first time in eight years that a Chinese premier made an official visit to Japan. "Eight years is a long time," Li added.
The two leaders witnessed the signing of several cooperation documents, including a memorandum for air and maritime contact mechanism.
Meanwhile, China agreed to grant Japan RMB Qualified Foreign Institutional Investors (RQFII) quota of 200 billion yuan (about 31.36 billion US dollars), helping Japanese financial institutions to actively invest in China's capital market.
In September, Xi and Abe met on the sidelines of the fourth Eastern Economic Forum in Russia's Vladivostok, where they exchanged views on ways to further improve bilateral ties.
What topics will be covered?
Back to Abe's upcoming visit, leaders from both sides will discuss topics such as how to improve and develop ties between the two countries, as well as exchange views on regional and international issues, Chinese Foreign Ministry spokesman Lu Kang announced on October 12.
The two sides will hold a reception to celebrate the 40th anniversary of the signing of the bilateral treaty of peace and friendship for China and Japan and the first bilateral forum on third-party market cooperation during Abe's trip, the spokesman noted.
Officials in Tokyo said Abe's visit would put relations on a "new trajectory" as his trip would overlap with the anniversary of the treaty.
What to expect for future cooperation?
China and Japan, standing in new development stages, are faced with both opportunities and challenges. The two economies are complementary to each other with enormous cooperation potentials.
According to economist Jesper Koll, the best starting point for Abe to create a more tangible and substantive China-Japan relationship is economic cooperation in general.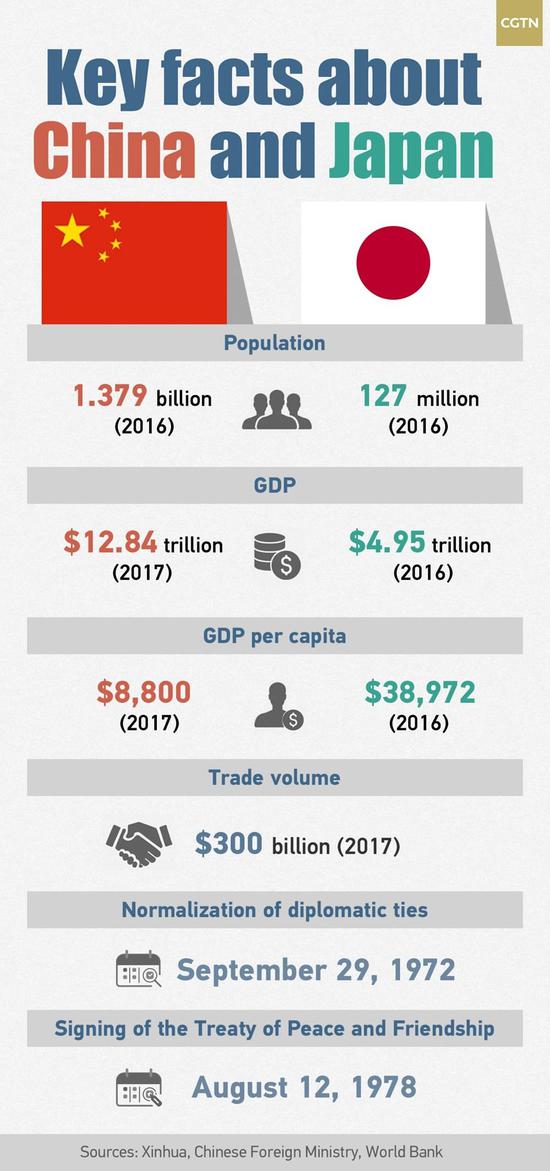 In 2017, bilateral trade rallied to over 300 billion US dollars. The Japanese economic circles are calling for increased cooperation with China in third-party markets and in areas of environmental protection, scientific and technological innovation and methods to deal with an aging society.
Some Japanese enterprises like Nippon Express, Japan's largest logistics firm, have already joined the comprehensive cooperation under the framework of the Belt and Road Initiative.
As the world is undergoing major development, transformation and adjustment and global free trade system and multilateralism are being challenged by rising populism and unilateralism, promoting Sino-Japanese ties will play an even more prominent role in contributing to the peace and prosperity of Asia and improving global governance.
Another demand Abe would like to press is the hope to achieve a diplomatic bonus through visiting China, Wu Jinan, head of the Shanghai Association for Japanese Studies, told reporters.
Japan sees no breakthrough over ties with Russia and the Republic of Korea (ROK) when there are also many contradictions in Japan-US relations, Wu said, stressing that seeking to return Sino-Japanese relations to a recalibrated state, in turn, is significant for Abe's consolidation of ruling status.
(With inputs from agencies)