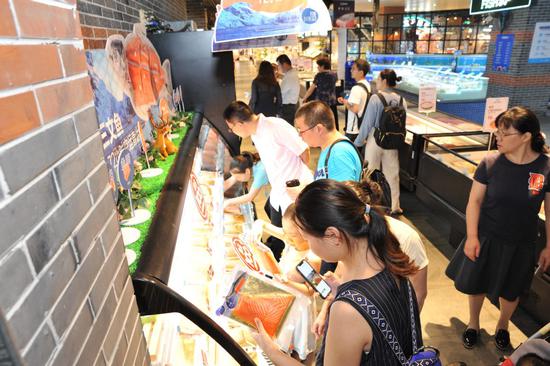 Consumers pick imported salmon fillets from a freezer at a Hema Fresh store in Shanghai. (Photo provided to chinadaily.com.cn)
Ten days after China's fish association introduced new standards that allow rainbow trout to be labeled as salmon - sparking nationwide criticism - the Shanghai Consumer Council held an open debate on Tuesday in which industry leaders and businesses were urged to respect consumers' right to know "about the products they consume".
Lawyers and aquaculture academics joined the two-hour debate with representatives from the China Aquatic Products Processing and Marketing Alliance, the main body that drafted and issued the new guidelines.
"The intent of this debate is not to rewrite or revise the new guidelines, as we don't have that role. But as a spokesman for consumers, we believe an open platform, including different viewpoints and interests for discussion, is the first step in bringing changes," said Tang Jiansheng, secretary-general of the council. "From the heated discussion we are confident that improvements will emerge."
Chen Lichun, deputy secretary-general of the aquatic alliance, said at the meeting that the new standards will be enacted as planned.
"The new standards are the result of thoughtful and solid study. The goal in introducing them is to regulate the market and guarantee food safety," Chen said.
The rules came out three months after China Central Television featured a massive freshwater fishery in Qinghai province that claimed to supply one-third of China's "salmon". The show prompted discussion about whether Qinghai - an inland province - should sell a large number of trout labeled as salmon.
The alliance has previously argued that in Chinese the word salmon could refer to both Atlantic salmon and trout. Atlantic salmon has a wholesale price more than twice that of trout, according to open listings on Shanghai's Fisheries Commerce Association.
One of the chief concerns of labeling trout as salmon is that the latter is widely enjoyed raw as sashimi in China, while trout, a freshwater fish, may carry parasites, which are likely to be infectious to humans.
"The controversy over salmon labeling has gone from an academic discussion to a social and legal problem, as it may encourage restaurants and retailers to violate consumers' right to know," Jiang Xian, a lawyer who participated in the debate, was quoted as saying by online media thepaper.cn.
An online consumer survey initiated by the consumer council in Shanghai found that more than 80 percent of the interviewees said mislabeling salmon is "turning white into black", with 70 percent concerned that businesses would take advantage of the new standards to cheat them. More than 2,000 people participated in the survey in two days.
China is the world's third-largest consumer market for salmon, after the European Union and the United States, and the fastest-growing one, at 25 percent annually, according to financial services company Rabobank.