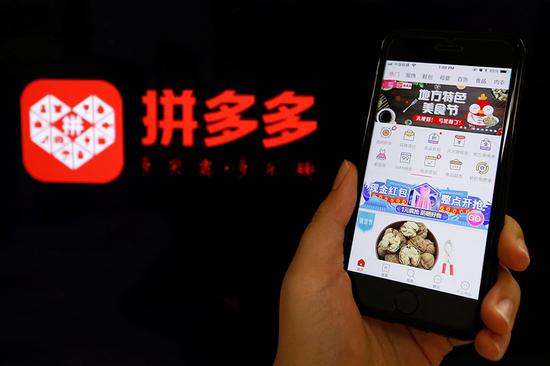 The logo of online group Pinduoduo is seen next to its mobile phone app. (Photo Florence Lo/for China Daily)
Televisions priced at 300 yuan ($44) were sold under the brand name Xiaomi New Product by online group discounter Pinduoduo, but the electronics giant Xiaomi Corp played no part in manufacturing them.
Pinduoduo recently removed listings for the TV brand after media reports said third-party vendors were selling low-priced Xiaomi copycat products on its platform.
In another case, a vendor sold TVs under the brand name Skyworth Pioneer for just 450 yuan. But TV manufacturer Skyworth Digital Holdings, headquartered in Shenzhen, Guangdong province, was not involved in the manufacturing process.
Skyworth has asked Pinduoduo to stop selling counterfeit versions of its products on its site. The demand followed Pinduoduo's successful initial public offering on the Nasdaq in New York on July 26.
Skyworth is the first company to make a public move to protect its rights and fight counterfeits on Pinduoduo's online platform.
The company said it reserves the right to sue the discounter for selling fake products.
A subsequent search for "Skyworth Pioneer" on the Pinduoduo site drew a blank.
Meanwhile, Chinese author Zheng Yuanjie said on his micro blog account that pirated versions of his books had been sold on Pinduoduo.
The online discounter said it had closed the store selling these pirated versions after Zheng complained.
The People's Literature Publishing House said it would take legal action against Pinduoduo for selling pirated books, most of which were sold at a discount of more than 50 percent.
The publisher said that books found on the platform that infringed the legal rights and interests of the publishers included Red Star over China, The Long March, Three Kingdoms, Journey to the West and the Harry Potter series.
The State Administration for Market Regulation has ordered local market watchdogs to crack down on the production and sale of counterfeit and shoddy goods.
The regulator will also fight the manufacture and sale of fake or inferior-quality products, infringement of trademarks, related false propaganda, and illegal advertising.
Huang Zheng, Pinduoduo's founder and CEO, said the discounter should do more to tackle copycat products, and pledged to come up with solutions within a month.
Co-founder Da Da said the issue of counterfeits is a social problem, and it is unfair to let Pinduoduo assume the responsibility.
Although e-commerce giant Alibaba holds the leading position in China's online shopping market, Pinduoduo, as a 3-year-old startup, is gaining traction among lower-income groups in lower-tier cities.
The company, headquartered in Shanghai, sells discounted products by incorporating social networking into online shopping, and has more than 300 million active users.
The scale of China's social e-commerce sector is expected to reach 1.14 trillion yuan this year, a year-on-year increase of 66.7 percent, according to a report released at the 2018 China Internet Conference this month.