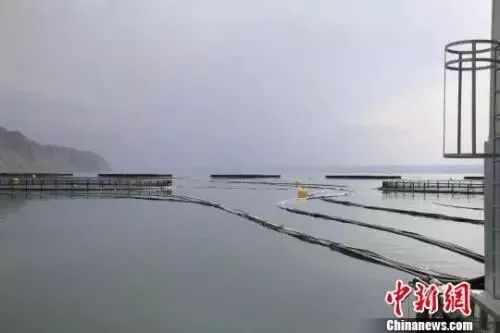 The Qinghai reservoir, located at an altitude of 2,600m, is home to the biggest salmon farm operations in China. (Photo: China News Service/Zhang Tianfu)
Chinese fishery authorities asked people not to believe the rumor claiming fishermen in northwest China are selling trout in place of salmon.
The China Fisheries Association (CFA) issued a statement on Thursday, refuting allegations that "rainbow trout in Qinghai-Tibetan Plateau was being mislabeled as salmon, was infested with worms and painted to resemble salmon."
Chinese netizens have expressed their doubts online, following a CCTV report which claimed that "one third of salmon on the Chinese market come from the Tibetan Plateau."
The report earlier last week added that all of the fry are imported.
Salmon has commonly appeared on Chinese dining tables over the past few years, with many of them claimed to be imported from countries including Norway, Chile and Scotland.
"Want to throw up all the [fake] salmon I have eaten," said @Maaotu, a user of the Twitter-like social media platform Weibo.
"Just wondering if eating raw fish raised in freshwater will be bad for our health," commented another Weibo user @Slyyuan, amid speculation arguing it is easy for rainbow trout bred in the Qinghai Lake to be infected with parasites.
According to the CFA, salmon is the commercial name of oncorhynchus, which includes rainbow trout, Atlantic salmon and Pacific salmon.
The national association said that the amount of parasites in fish are due more to the quality of water, rather than seawater or freshwater.
"We haven't found any harmful substances in the fish raised in the reservoir," Hou Baoning from Qinghai customs told Chinanews.com, citing monitoring data over the past few years.
However, fears over food safety are not easy to allay. Xinhua News Agency has reminded people that "not all the seawater salmon are good raw fish" in its report, adding that Atlantic salmon is widely regarded as the healthy source of sashimi, the Japanese delicacy popular in China.