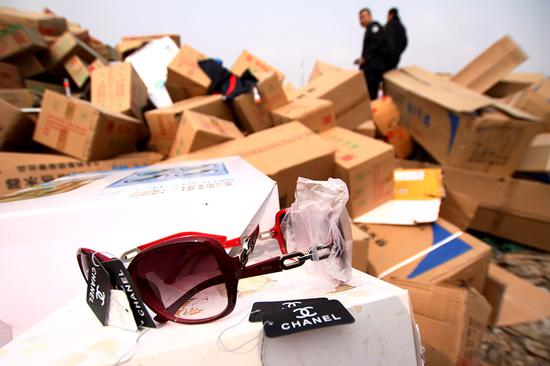 Officers from the Chengguan district branch of the Lanzhou Administration for Industry and Commerce in Gansu province destroy counterfeit goods they seized last year. (Photo by Pei Qiang and Niu Jing/for China Daily)
Market regulator targets online discounter Pinduoduo
The appearance of shanzhai products, look-alike counterfeit goods that feature purposely misspelled names of leading brands, on Chinese online discount site Pinduoduo has sparked heated discussion.
Televisions, sold under the brand name Shaasuivg, which could be confused for Samsung, are made by a consumer electronics company in Sichuan province. The sets cost 388 yuan ($57) apiece, more than 10 times cheaper than those produced by the South Korean technology giant.
Other copycat brands with names and products similar to those of Xiaomi, Huawei, Vivo and Oppo have been sold on Pinduoduo, and their prices are listed at just several hundred yuan.
Since its initial public offering in the United States in late July, Pinduoduo has been criticized by the media for selling low-priced knockoffs that resemble products made by well-known manufacturers.
The scathing reports have attracted the attention of China's market watchdog, the State Administration for Market Regulation. It announced on Aug 3 that Pinduoduo should strengthen platform management and regulate business activities of third-party vendors to maintain fair competition. The announcement came after officials from the regulator met with representatives from Pinduoduo amid reports of rampant counterfeits.
The regulator also announced an investigation into the reports of bogus goods being sold on Pinduoduo. It told the Shanghai Administration for Industry and Commerce, as well as other regulators, to launch targeted investigations.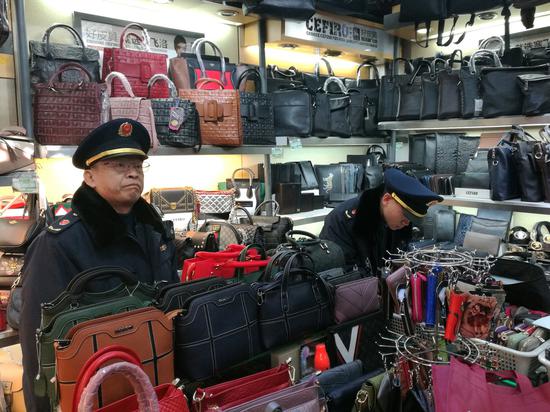 Officers from the Dongcheng district branch of the Beijing Administration for Industry and Commerce launch investigations during Spring Festival in an effort to combat the sale of counterfeits. (Photo by Pei Qiang and Niu Jing/for China Daily)
It also said it would step up efforts to combat the manufacture and sale of counterfeit or substandard goods, including products that try to pass themselves off as well-known brands.
Huang Zheng, Pinduoduo CEO, said his company will "thoroughly rectify and reform" its conduct, cooperate with regulators and not shirk its responsibilities.
Pinduoduo said it is committed to fighting counterfeits, adding that it should do more to tackle the issue of products that copy those produced by leading manufacturers. "Fighting counterfeits is a long-term process. We have learned a lot from the likes of Alibaba, and imposed stricter fines on unlawful merchants," Huang added.
The company has removed more than 10 million items due to counterfeiting concerns as well as blocking over 40 million links to goods suspected of being pirated.