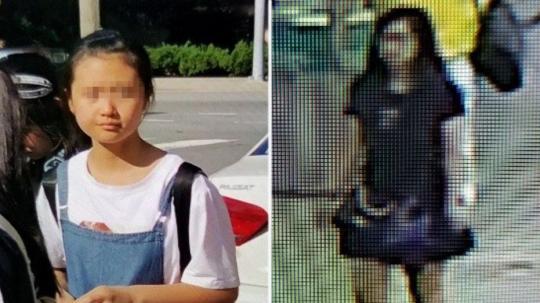 Ma Jinjing (L), a 12-year-old Chinese girl, and the suspect (R). (Photo provided by the U.S. police)
A 12-year-old Chinese girl who went missing from an airport near Washington D.C. on Thursday was found safe with her parents in New York, authorities said Friday.
In a statement to Xinhua, Metropolitan Washington Airports Authority Police said Jinjing Ma, who was reported to have gone missing from a tour group Thursday at Ronald Reagan Washington National Airport in Arlington, state of Virginia, was located Friday in the New York City borough of Queens, "safe and in the custody of her parents."
An official with the Chinese embassy in Washington D.C. also confirmed this to Xinhua.
An investigation is now being led by the Federal Bureau of Investigation (FBI), police said.
Ma, who had been traveling in the United States since July 26 with a tour group, was believed to have left the airport "without force" with an unknown, middle-aged Asian woman after telling her group before checking in that she needed to use the restroom.
Authorities said the woman helped Ma put on some clothing, and then they walked together to the arrivals section of the airport before entering a white Infiniti vehicle with New York tags believed to be driven by an unknown male.
Police issued an Amber Alert, a child abduction alert used when a child abduction occurs in the country, after Ma separated from her tour group, which was about to depart for the West Coast after sightseeing in Washington and New York.
The girl was not abducted and her parents picked her up at the airport, Anna Demichik, a legal counselor for Ma's parents, told CBS News.
Demichik said the parents have met with FBI investigators and that the investigation is ongoing.
The couple have been living in the United States for two years and haven't seen their daughter for at least two years, who had been living with her relatives in China during this period of time, according to Demichik.
Ma, who is on a visa issued for her U.S. trip, will be staying in New York with her parents and there is no immediate rush to send her back to China, Demichik added.