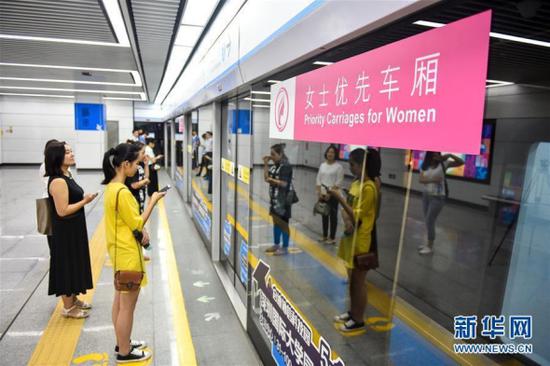 Shenzhen Metro Group launched "ladies first" subway cars on Monday, with the aim of providing a better traveling experience for female passengers and advocating care for women. (Photo/Xinhua)
Liu Dapeng has spent this summer the same way he spent the last: hunting perverts who target female passengers in crowded subway cars.
He is among dozens of plainclothes police officers who patrol Beijing's vast subway network each day to prevent the sexual assault or harassment of women, the instances of which peak in warm-weather months.
The clampdown campaign was launched in June last year by the Sihui police station in the south of Chaoyang district, and then rolled out citywide over the following two months, with about 20 stations allocating resources.
So far, 155 men have been fined or given five to 15 days in a detention house-an extrajudicial punishment mostly used for minor offenses-after being caught groping or molesting women on trains.
Liu, who was the first to suggest intensifying patrols during the summer, is part of a 20-strong team from Sihui that covers nine subway stations.
Combined, the stations have average daily passenger flow of over 2.1 million.
He said he has become adept at identifying a potential molester in a crowd.
"They act strangely," he said. "They will wander the platforms looking for 'targets', compared with most commuters, who just get on or off the train as quickly as possible."
Liu said they have found suspects exposing themselves, taking up-skirt photos and making deliberate physical contact with victims.
While spotting potential offenders has become easier over time, collecting evidence has not.
Video footage is the most powerful and direct proof. Liu said the undercover officers operate in teams of three and will record suspects from multiple angles, and if there is physical evidence, such as bodily fluids, they will detain the suspect immediately.
On June 29, Liu saw a man squeeze between two women in skirts as they boarded a packed train at Communication University of China Station at 8:45 am. Once in the car, the suspect put one hand between the women's hips, pretending it was accidental, and placed the other on his crotch.
Liu and his colleagues filmed the behavior on their smartphones. When the train reached Sihui Station about 15 minutes later, the man was taken into custody and the women agreed to give statements, resulting in the man receiving time in a detention house.
"Being able to detain an offender within just 15 minutes is not the norm, though," he said. "Typically, it can take several officers a lot of time and energy to nail down the proof."
In an online survey last year of 2,023 people-55 percent of whom were female-by China Youth Daily, 53 percent said they or their female friends had experienced sexual harassment on the subway.
Huang Qiongyu said a man had secretly shot video of her on a Beijing subway in May, but she didn't notice. A nearby passenger told her after the man exited the subway.
"I felt irritated and speechless," she said. "The people around didn't do anything to inform me. But they weren't to blame, because it wasn't their business."
Xu Weina, another Beijing commuter, said a man once touched her several times on the subway but pretended it was unintentional. "Everyone around me was staring at their phones, so no one noticed," she recalled. "I felt scared and helpless. I had no idea what to do other than get off at the next stop."
The survey also found that the first things people said they would do facing such things are ask security personnel for help (63 percent), shout to get attention (59 percent), and take photo evidence and report to police (54 percent). Six percent said they would remain silent.
However, Liu said that in reality, many female victims remain silent or are unwilling to cooperate with investigators, making the investigation more difficult.
"Some feel embarrassed or disgraced to speak about it, and some are in a hurry to get to work. We have to do a lot to persuade them. It's frustrating to release suspects for lack of evidence," he said.
In June last year, Chu Yan, a female police officer with Liu's team, suspected a woman was being harassed by a male passenger on the subway. To avoid embarrassing her, she typed "I'm police. Are you being molested?" on her phone and showed it to the woman, who nodded and typed her number into Chu's phone.
Chu detained the suspect, but when she called the woman several times to get a statement, the victim refused and even warned that if Chu kept calling, she would file a complaint. The suspect was released within 24 hours due to a lack of evidence.