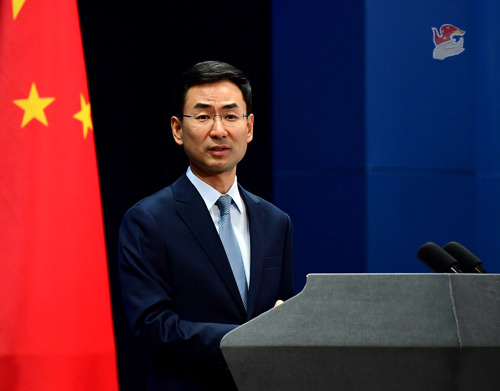 Foreign Ministry spokesman Geng Shuang speaks at a news conference in Beijing on August 3, 2018. (Photo/fmprc.gov.cn)
Beijing dismissed criticism from the United States after a U.S. official claimed that China's construction of dams on the upper Lancang (Mekong) River had a detrimental effect on lower Mekong countries.
"Related comments by a U.S. official are groundless and they have ulterior motives," Foreign Ministry spokesman Geng Shuang said at a news conference in Beijing on Friday.
A senior U.S. State Department official told the media on Thursday that the Mekong originates in China, which has influence on the resource that affects downstream areas, so countries along the river have to manage some of those impacts.
Geng said China has always valued the concerns and needs of lower Mekong countries and maintained close communication with them. It is committed to water cooperation such as hydrological information sharing, he said.
According to Geng, China has provided hydrological data about the Lancang River during the flood season to related countries for 15 consecutive years.
"China's sincere help has gained praise from downstream countries," he said.
When asked to comment on a meeting of the Lower Mekong Initiative chaired by U.S. Secretary of State Mike Pompeo during the annual Association of Southeast Asian Nations-centered ministerial meetings in Singapore, the spokesman said that Beijing was glad to see countries outside the region participate in subregional development and cooperation.
"We hope countries outside the region will play a constructive role in facilitating development of subregional countries instead of creating divergences and barriers," he said.
The Lower Mekong Initiative was created by the U.S. and five lower Mekong countries-Myanmar, Cambodia, Laos, Thailand and Vietnam.