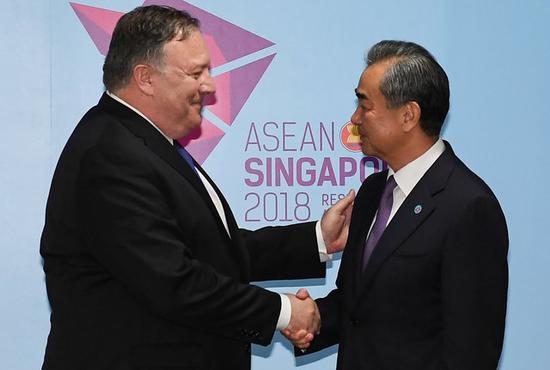 U.S. Secretary of State Mike Pompeo and China's Foreign Minister Wang Yi shake hands before their bilateral meeting at the 51st Association of Southeast Asian Nations (ASEAN) in Singapore, August 3, 2018. (Photo/Agency)
Confrontation between China and the United States would definitely lead to a lose-lose situation and damage world peace, stability and development, State Councilor and Foreign Minister Wang Yi told U.S. Secretary of State Mike Pompeo on Friday.
The two senior diplomats met on the sidelines of the annual ASEAN Foreign Ministers' Meeting and related meetings in Singapore amid widespread concern over bilateral trade friction.
Wang told reporters after their meeting that Pompeo agreed with China's stance that issues of common concerns could be addressed through talks on the basis of equality and mutual respect.
Pompeo also told Wang that he did not expect such friction to continue, Wang added.
During their talks, Wang noted that China-U.S. ties are at a crucial point.
China has always believed that cooperation is the only right choice for China and the U.S. and also meets the common expectation of the international community, Wang said.
The two countries are permanent members of the United Nations Security Council and the world's two largest economies, and the direction of Sino-U.S. relations is related to the wellbeing of the peoples of both countries and the world, Wang said.
The two sides should work on the basis of mutual respect and equality, conduct dialogue and consultation to manage and control their differences, solve problems and navigate the development of Sino-U.S. relations to move forward on the right track, Wang said.
At the meeting, Pompeo said U.S.-China ties are very important. He also said the U.S. hopes both countries will achieve success, and the U.S. has no intention of hindering China's development.
The U.S. will continue to adhere to the one-China policy, he said.
The two sides should continue to make joint efforts to strengthen communication and cooperation on issues including the Korean Peninsula nuclear issue, Pompeo added.
On Friday, Wang also met with foreign ministers of other countries in the region, including the Democratic People's Republic of Korea.
In a meeting with DPRK Foreign Minister Ri Yongho, Wang said China endorses the DPRK's taking a slew of measures recently to promote the denuclearization of the Korean Peninsula and to improve DPRK-U.S. ties.
China hopes the DPRK will stay committed to the right direction and that the U.S. will value the DPRK's legitimate concerns and meet the DPRK halfway, he said.
On China-DPRK ties, Wang said China is ready to boost strategic communication, steadily advance pragmatic cooperation and offer help within its capacity for the DPRK's economic and livelihood development.