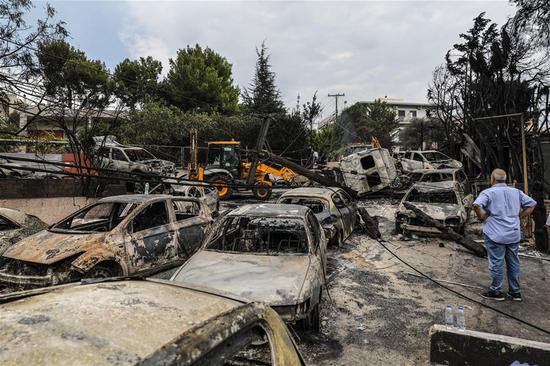 A man looks at burned vehicles in Mati, a seaside town east of Athens, Greece, on July 24, 2018. (Xinhua/Lefteris Partsalis)
Greek political leaders pledged full and immediate support to the fire-stricken areas in Attica on Tuesday, as the country was mourning at least 74 dead.
July 24 has been a day of celebration in Greece in the past 44 years as the day democracy was restored after a seven-year military dictatorship.
This year it was a day of national mourning, as Greeks faced the deadliest tragedy caused by wildfires in over a decade.
"On this anniversary of the restoration of democracy our thoughts are on the tragedy of the deadly fires that struck Attica. Our thoughts are with the victims and their families and the injured fighting for their lives. There are no words for our pain. We fully support them," Greek President Prokopis Pavlopoulos said in a televised message.
"Nothing and nobody will be forgotten. Nothing and nobody will be left without help and the assistance of the state," Greek Prime Minister Alexis said in a similar address to Greek people, declaring three days of national mourning.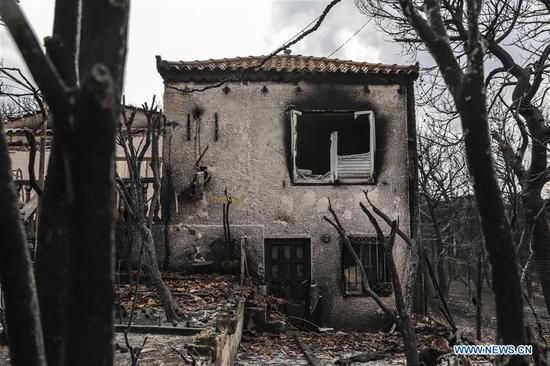 A burned house is seen in Mati, a seaside town east of Athens, Greece, on July 24, 2018. (Xinhua/Lefteris Partsalis)
Following a mini cabinet meeting, government spokesman Dimitris Tzanakopoulos outlined a series of measures to help fire victims, including the disbursement of 20 million euros (23.4 million U.S. dollars) to meet immediate needs of municipalities struck by the fires and compensations for citizens who have suffered damages.
According to the latest official count, 187 injured people were hospitalized.
Meanwhile, hundreds of firefighters were still battling against flare-ups and emergency crews were searching for missing persons inside charred remains of summer homes and cars.
The Mayor of Marathon city Ilias Psinakis has expressed fears, speaking to local Alpha TV, that the final death toll may surpass 100. He talked about some 40 people still missing.
Most of the victims were found at the seaside settlements of Mati and Neos Voutzas, some 30 km east of Athens. In many cases the charred bodies of family members were found hugged together a few meters away from the sea.
Survivors described an inferno horror with hundreds of people finding themselves engulfed by flames within a few minutes as strong winds of up to 10 on the Beaufort scale helped quickly spread the blaze which had started on Penteli Mountain on Monday afternoon.
People rushed to the shores, as narrow streets were blocked by abandoned cars and blazing fallen trees.
Several drowned after many tried to escape by swimming in panic. More than 715 were transferred to safety to the nearby port of Rafina by dozens of Greek Coast Guard vessels and private boats, authorities said.
Some 1,000 houses and 300 cars were destroyed, according to initial estimates.
"It is an image of biblical disaster, as you can see here," Roula T., a resident of Mati told Xinhua on Tuesday, pointing around the blackened neighborhood.
"My brother's apartment on the upper floor which was damaged was his primary residence. Now we will try to collect our pieces and rebuild everything. What can we do? The most important thing is that lives were lost and all this is gone. Can you see what has happened here? Can you? This was a lung," she said pointing to the pine forest which was burned down.
Roula and other residents who survived the nightmare were narrating heartbreaking stories of family tragedies next door. Mary, an elderly lady chose to stay with her bedridden husband inside their home at Mati. They died together. Others talked about people perishing in the sea next to them.
Greek citizens nationwide also expressed their solidarity with people in the fire-stricken areas. People queued to donate blood for the injured or medical and food supplies. In social media, others offered to open their homes to families left homeless.
The Greek government has also received numerous messages of solidarity and support from countries across the world. Personnel and water dropping aircrafts from Cyprus and Spain were assisting Greek forces on Tuesday to contain the last fronts.
While the situation at eastern Attica had improved by Tuesday sunset, as a precautionary move, authorities evacuated three communities near Loutraki and a children's camp in the Alepochori area in western Attica, as the fire in Kineta, 50 km west of Athens, picked up on Tuesday, Greek national news agency AMNA reported.
The blaze which started on Monday noon at this resort town has also scorched down a pine forest and dozens of homes, according to the Fire Service. (1 euro=1.17 U.S. dollars)