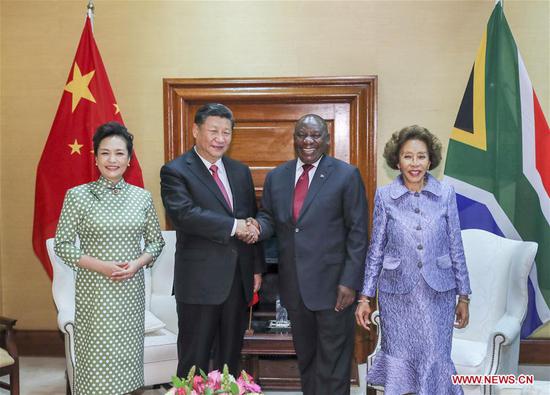 Chinese President Xi Jinping (2nd L) and his wife Peng Liyuan (1st L) pose for photos with South African President Cyril Ramaphosa (2nd R) and his wife Tshepo Motsepe ahead of the two leaders' talks in Pretoria, South Africa, July 24, 2018. (Xinhua/Xie Huanchi)
Special: Xi Visits Five Arab and African Countries, Attends BRICS Summit
China and South Africa on Tuesday pledged to carry forward their traditional friendly relations and advance their comprehensive strategic partnership in the new era.
During the talks between visiting Chinese President Xi Jinping and his South African counterpart Cyril Ramaphosa, Xi emphasized that, currently, China-South Africa relations are at a historic starting point and he offered a five-point suggestion to further improve the bilateral ties.
Xi said both sides should reinforce high-level exchanges and increase political trust, and mutually understand and support each other on issues related to each country's core interests and common concerns.
China and South Africa should strengthen cooperation under the framework of the Belt and Road Initiative and enjoy the opportunities brought by the fourth industrial revolution. China is willing to emphasize cooperation in infrastructure construction, trade and investment, technological innovation and finance, Xi added.
People-to-people exchanges and cooperation in security and law-enforcement were also stressed by the Chinese president during the meeting.
Xi also said that the two countries need to coordinate within multilateral frameworks such as the United Nations, the G20 Group, and the BRICS bloc, to defend multilateralism against unilateralism and protectionism.
For his part, Ramaphosa said the ties between South Africa and China have been continuously strengthened since the two established diplomatic relations 20 years ago.
No longer simply a traditional bilateral relationship, China-South Africa ties now bear a special strategic significance, the South African president said.
He promised that South Africa will resolutely adhere to the one-China policy, push forward collaboration under the Belt and Road Initiative, and closely coordinate with China on major international and regional issues.
Regarding general ties with Africa, the Chinese president emphasized that working with African countries is China's long-term and unswerving strategic choice.
He said China will work out plans with the African participants at the upcoming Forum on China-Africa Cooperation in Beijing to build a more closely bonded community of shared destiny between China and Africa.
The two leaders also witnessed the signing of multiple cooperative documents after the talks.
Earlier on Tuesday, the Chinese president, who is paying a state visit to South Africa, attended a welcome ceremony held by Ramaphosa.
Xi arrived in Pretoria on Monday night, marking the beginning of his third state visit to South Africa.
He is also scheduled to attend the 10th BRICS summit in Johannesburg from Wednesday to Friday.
(With input from Xinhua)