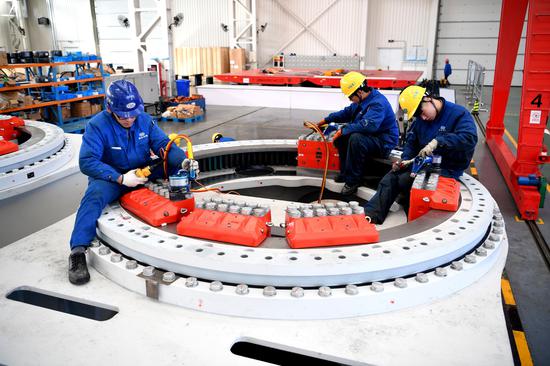 Employees from a subsidiary of China Shipbuilding Industry Corp install clean-energy equipment in Nantong, Jiangsu Province. (Photo/Xinhua)
China's efforts to upgrade its manufacturing sector are totally inclusive and open-ended, and ongoing Sino-U.S. trade frictions have "limited impacts" on its sprawling industrial economy, the country's top industry regulator said on Tuesday.
Huang Libin, spokesman for the Ministry of Industry and Information Technology, said China's strategy to upgrade manufacturing is based on the philosophy of openness and win-win cooperation. It is absolutely in line with international practices, he said.
"We will gear up the steps to build China into an advanced manufacturing power … and we sincerely welcome foreign companies to take part in such efforts," Huang said.
The spokesman said the trade spat with the United States will not derail China's industrial growth.
The economy is reducing reliance on exports and local companies are beefing up their strength in core technologies, he added.
Three years ago, exports of industrial products accounted for more than 20 percent of China's total industrial output. But last year, the proportion plummeted to about 10 percent, according to the ministry.
"Though some companies do report that their U.S. customers asked to suspend orders and shipments, such cases are not common. The trade friction, in general, did not have a negative impact in the first half of the year," Huang added.
In the first six months, industrial output, an important economic indicator, expanded 6.7 percent year-on-year, maintaining steady growth momentum that was faster than the ministry had expected.
"China has complete manufacturing industrial chains and is equipped with high-quality technical workers. The existing global industrial layout will also not change in a short time, which will help reduce uncertainties," Huang said.
The comments came after the U.S. proposed plans to impose additional tariffs on $200 billion worth of Chinese imports. This month, the U.S. already slapped an additional 25 percent tariff on $34 billion worth of Chinese goods. China has no choice but to retaliate with increased duties on the same value of U.S. imports, officials said.
Even if the U.S. rolls out all the tariffs on the combined value of $200 billion and $34 billion, the impact on China's total industrial output will be limited and totally under control, according to Zhu Sendi, chairman of the experts committee at the China Machinery Industry Federation.
"The U.S. started the trade dispute based on accusations that China has created an unfair playing field for foreign companies, but in fact, international firms have gained immensely from our intensified investments in smart manufacturing," Zhu said.
As Chinese companies deploy highly automated machines in assembly lines, for instance, the combined local market share of foreign robot makers including ABB Group of Switzerland and Fanuc from Japan jumped to 73.2 percent in 2017, up from 67.3 percent in 2016, Zhu added.
Qu Xianming, a member of the National Manufacturing Strategy Advisory Committee, which advises central government authorities on manufacturing policies, said that when drafting China's manufacturing strategy, the committee has frequently consulted the U.S. government's Advanced Manufacturing Partnership project.
"Outlining industrial targets and using a small sum of money to guide private investment are common international practices used by many countries," Qu said.