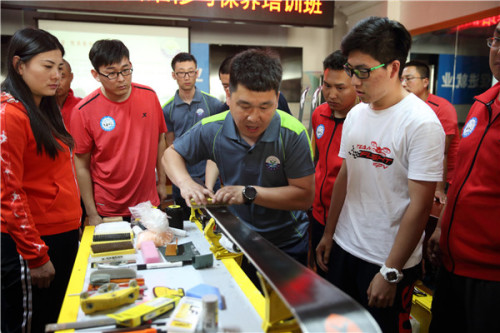 A technician shows how to wax a ski properly during a training session for members of the Haituo "farmer ski team" in Beijing's Yanqing district on Thursday. (WANG JING/CHINA DAILY)
Winter Olympics to boost demand for pastry cooks, ski-related skills
Farmers in Beijing's northwestern Yanqing district are attending occupational training classes, with support from the local government, so they'll be ready to help out during the 2022 Winter Olympics.
The district's human resources bureau said the plan is to train 100,000 people by 2022, at a rate of 20,000 a year.
Two types of vocational training are offered: Western-style baking and pastry-making, and ski equipment cleaning and maintenance. The training is designed to help local farmers better serve the Games and improve their job prospects as ski tourism takes off in the area.
Yanqing, 74 kilometers northwest of central Beijing, will host several events in 2022, including Alpine skiing, bobsled, skeleton and luge.
"The training is being provided on the basis of what farmers in Yanqing need. And there's an urgent need for local residents to have the skills training before the events approach," said Xu Xi, director of Beijing's Human Resources and Social Security Bureau, which is supervising the program.
Xu said the training will be conducted by two vocational schools in Beijing, and that the farmers will also receive training in language and etiquette.
Yanqing farmer Guo Junhua, 34, is an avid skier and a local ski coach. Because of a lack of access to professional training, she learned to ski on a mountain near her village.
In September, friends who practiced on the same slopes introduced her to the Haituo "farmer ski team". She joined the 18-member team-whose average age is 26-to get more professional training and help train others interested in skiing. In December, members of the team received some international-level training organized by the Swiss Ski Association.
Guo said she is excited about the vocational training and wants to learn how to wax and store snowboards properly.
"I'm even more thrilled that I can use the opportunity to improve my English and enhance my chances of being a volunteer at the Winter Olympics," she said.
Zhao Jinrong, 48, from Jingzhuang town in Yanqing, is receiving weekly training in Western-style baking and pastry-making from Beijing Industry and Technicians College. She has basic baking skills but never had the chance to learn professional techniques before.
As the operator of a family farm restaurant, she said it is a precious opportunity to learn Western-style cooking skills and some basic English.
"Increasing numbers of foreigners are showing up in my restaurant," she said. "To be able to say hello to them in English would really help me and my business."
The college is providing the culinary and etiquette training for the farmers. Fang Weiguo, the college president, said it had invited a chef from a famous Western restaurant chain, Maxim's de Paris, to help provide professional training.
"It's also a way to make up for the lack of volunteer resources for the 2022 Winter Olympics," Fang said.