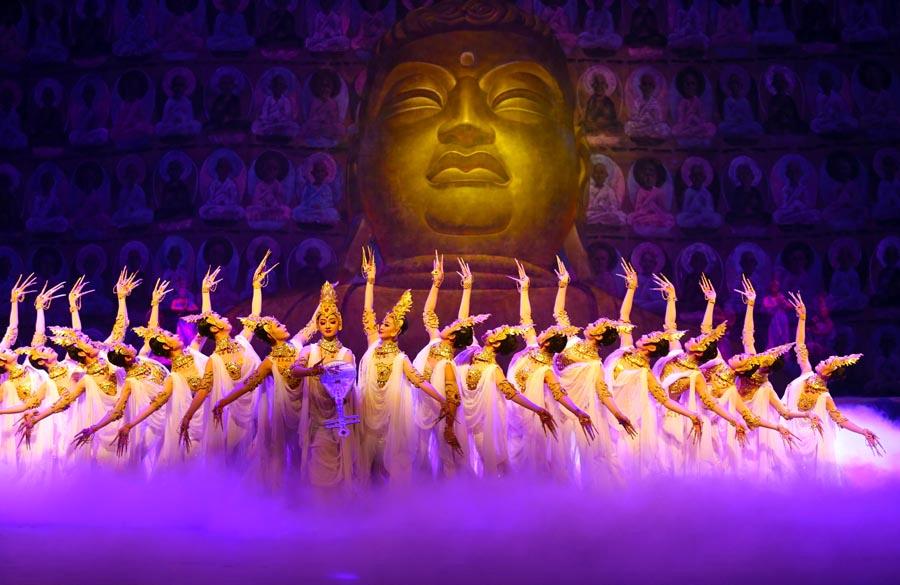 A stage photo of Silk Road, Flower Rain. (Photo provided to chinadaily.com.cn)
As the Silk Road weaved its way through Asia during the Tang Dynasty (618-907), linking a myriad of cultures through trade, so too does the dance drama set during the peak of this historical period. Silk Road, Flower Rain, a spectacular set of folk dances first performed in 1979 to celebrate the 30th anniversary of the founding of the People's Republic of China, makes use of Chinese and Persian motifs to tell a story of love, adventure and discovery.
The Silk Road I saw was part of the Meet in Beijing arts festival, a month-long cultural celebration fêting countries participating in the Belt and Road Initiative, which was announced five years ago. With its broad, inclusive themes of connectivity and friendship, the dance drama was a perfect encapsulation of the festival's theme and an excellent use of the Tianqiao Performing Arts Center's space.
Performed in eight parts including prelude and finale, Silk Road follows painter Zhang Shenbi, his daughter Yingniang and the Persian merchant Yunus in their travels and tribulations along the titular trade route. Zhang comes from Dunhuang, a place we now know thrived in the Tang period as a center for art and innovation. The beautiful frescoes from the region's Mogao Caves serve as inspiration for the dance drama, and during one act it is revealed Zhang created these works while serving out an unfair sentence - his art flourishing in incalculably difficult circumstances. Zhang and his daughter move gracefully in the show, letting their bodies serve as conduits for their artistry.
Prev Button
Next Button