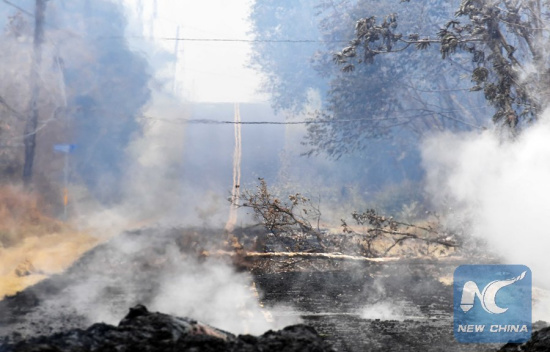 Volcanic debris are seen on a road in Leilani Estate, Hawaii, the United States, May 9, 2018. According to reports of the Hawaii State government, eruptions of the KilaueaVolcano had forced the evacuation of thousands of people. (Xinhua/Tao Xiyi)
Hawaii is being attacked on all fronts. Not only have there been volcanic eruptions and earthquakes over the last two weeks, but now people are being warned of the risk of breathing in toxic gases. With latest information released by the Mayor's Office of Hawaii, the first known serious injury was reported from fresh explosive eruptions from the Kilauea volcano, while no other information was immediately available.
Fissures have appeared in multiple locations ? cracks in the ground where the pressure beneath literally splits the earth open - as well as the lava and steam that is rising from these cracks contain huge amount of sulfur dioxide: a toxic gas, which can cause severe health problems.
A lack of wind has meant that the gas is lingering over some neighborhoods, instead of being blown out over the Pacific ocean.
Residents are being encouraged to leave their homes.
Those who have decided to remain have been told to stay inside. If they do go outside, then authorities say they should wear a breathing mask. However, the mask could only protect them against the ash falling from the sky, but not from sulfur dioxide. Officials say the only real protection is to leave and come back when authorities give the all clear.
Leilani Estates in the Puna District is one of those areas worst hit. It's been closed off by the Civil Defense Department for days, with only residents who have decided to brave it out, allowed to come and go. Jason Green has just bought a house there with his husband, David. They fled a few days ago, but went back with CGTN to show us the home that they were in the middle of renovating when the eruptions began.
"This was a surprise and it happened so fast," Green says, as he shows us a notice left on his doorstep, advising people to leave.
"I have dogs and I can't put a respirator on my dogs. I don't know what kind of long term exposure this is going to have on our bodies. Being awake, I can see the air and if it's getting thick or bad, I can leave. If I'm asleep, I don't know," he adds.
He's returned to put up security cameras because as most residents have left, there has been a surge in petty crimes: "We're putting these notices up in the windows, warning people who walk past that they're on camera because of the looting," he says.
Jason and David only moved to Hawaii six months ago, for a quieter life after years in the Bay Area of Northern California. They swapped earthquake territory for an island that experiences earthquakes and eruptions. They've now had both. As the residents of Hawaii pray for it to stop, nobody can say with any certainty when that will happen. But everybody is prepared for this to get worse before it gets better.
CGTN's Phil Lavelle