With Spring Festival and the Winter Olympics enticing Chinese families to sit together around their televisions, a surprising advertising campaign featuring Leonardo DiCaprio promoting a used car platform has potentially been seen by hundreds of millions of people.
DiCaprio, the world's highest-paid actor and Best Actor winner at the 2016 Oscars, has a non-speaking role in the advert for Uxin Second-Hand Car Online Marketplace.
Image courtesy of Uxin Second Hand Car Marketplace
Broadcast on China Central Television's sports and movie channels as well as some of the most popular regional broadcasters, the costly ad campaign has also seen an unspecified sum spent on billboard adverts across China.
While the financial clout of Uxin, which raised 500 million US dollars in funding last January, speaks volumes about the growing second-hand car sector in China, it also underlines the scale of the country's advertising industry and the use of star power to sell products.
A report by GroupM ? a marketing research company ? suggests that Internet adverts took up 56 percent of all ad spending last year, with the entire advertising industry estimated to be worth 84.4 billion U.S. dollars. For TV adverts, companies had an estimated spend of around 26.5 billion U.S. dollars.
A lot of that money goes on getting celebrity endorsements, with some surprising faces appearing on Chinese screens to help promote a huge range of products. Take a look below at some of the more unusual ad campaigns from recent years.
Dicaprio a veteran of Chinese advertising
Known as "Xiao Li" to his Chinese fans, DiCaprio has a huge following in the country, and that could partly be down to his frequent appearances in advertising.
Back in 2011, the star of The Revenant was reportedly paid five million US dollars by smartphone maker Oppo for a series of high-budget adverts that saw Leo running across Paris, using an Oppo phone to track down a mysterious woman.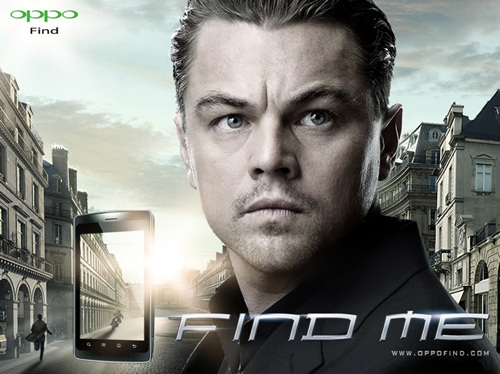 Image courtesy of Oppo
Since then, DiCaprio has been named as the brand representative of BYD, one of China's biggest electric vehicle (EV) manufacturers. A keen environmentalist and a UN Messenger of Peace, DiCaprio backed a team at the first-ever Formula E EV supercar race in Beijing in 2014.
One of his more surprising appearances was for what has been called the most expensive advert of all time. Reportedly costing 70 million US dollars, the 15-minute corporate video for Studio City ? a 3.2 billion US dollar entertainment and retail complex in Macao Special Administrative Region ? was directed by Martin Scorsese and featured not only DiCaprio but also Robert De Niro and Brad Pitt.