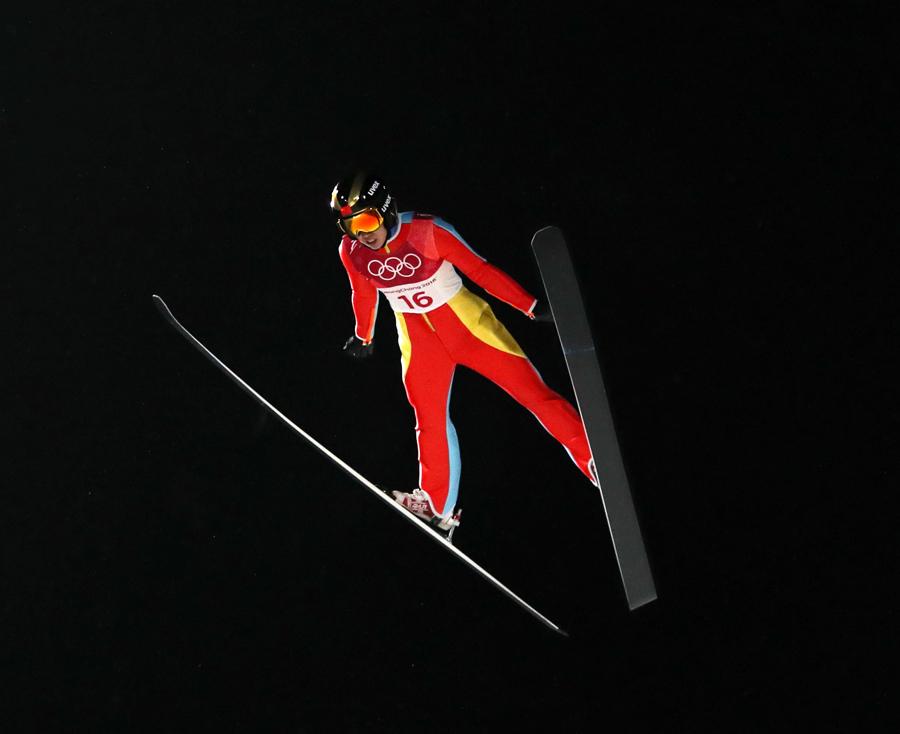 China's Chang Xinyue, a former short track speed skater, competes in the women's normal hill individual final in Pyeongchang.(Feng Yongbin/China Daily)
Recruiting athletes from other disciplines into Olympic sports should help enhance China's chances
With the goal of expanding its profile on the global sports stage, China is rolling out a cross-sport talent selection program to identify and develop future Olympians.
From skating rinks to ski jumps, and from running tracks to skeleton courses, some of China's first-time Winter Olympic breakthroughs in Pyeongchang have been achieved by talent drafted from other sports as part of an innovative plan to turn total neophytes into future medal contenders.
Taking a deep breath on top of the hill last week, ski jumper Chang Xinyue launched herself onto the ramp, crouching low for maximum acceleration.
After soaring over 80 meters with her ski tips spread in an aerodynamic'V', Chang hit the landing area with one foot ahead of the other to finish her final run in the ladies' normal hill competition.
Chang's smooth technique belied her challenging road to join the global elite.
A rising short-track speed skater on the Jilin provincial team, Chang decided to move from ice to snow in 2010, when the national ski jumping team was assembled for the 2014 Sochi Winter Olympics.
After seven years of hard work on dry land at home and training on overseas hills, she made history by becoming the first Chinese to qualify for Olympic ski jumping after impressive showings on the 2017-18 World Cup circuit.
"I think I just enjoy the speed flying in the air more than sliding on the ice. I am the first one from China to make it to the Olympics, but I definitely won't be the only one in Beijing in 2022," Chang said after finishing 20th among 35 competitors in Pyeongchang.
Inspired by Chang and other examples, the country's top sports governing body launched a major cross-sport talent development program, tasked with nurturing potential Olympians in events the nation had never contested for the 2020 Tokyo Summer and 2022 Beijing Winter Games.
Prev Button
Next Button